Solar Water Fountain Pump with Battery Backup – AquaJet Custom Kit 24V with Battery Backup 655.1GPH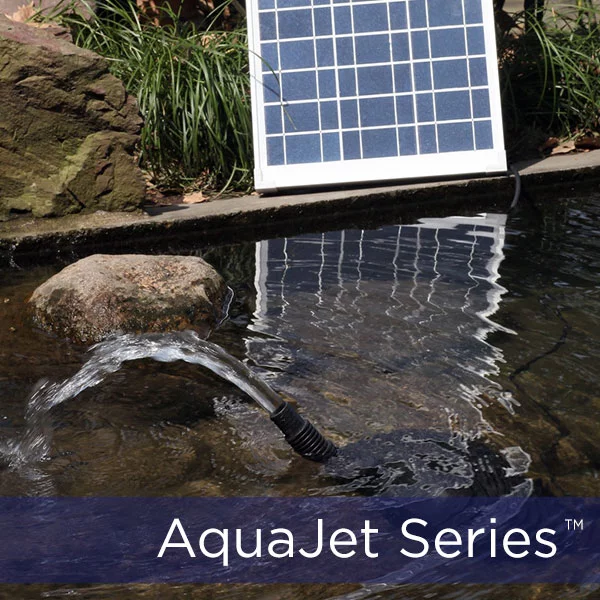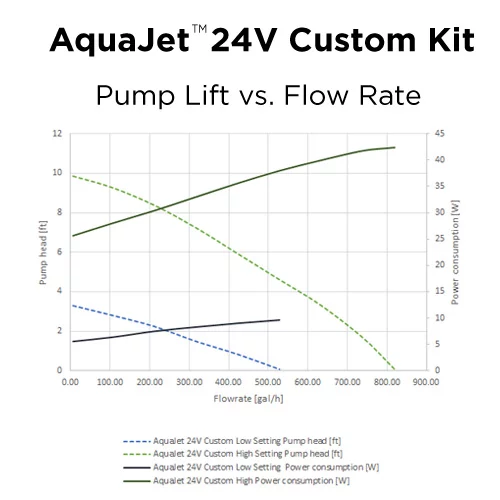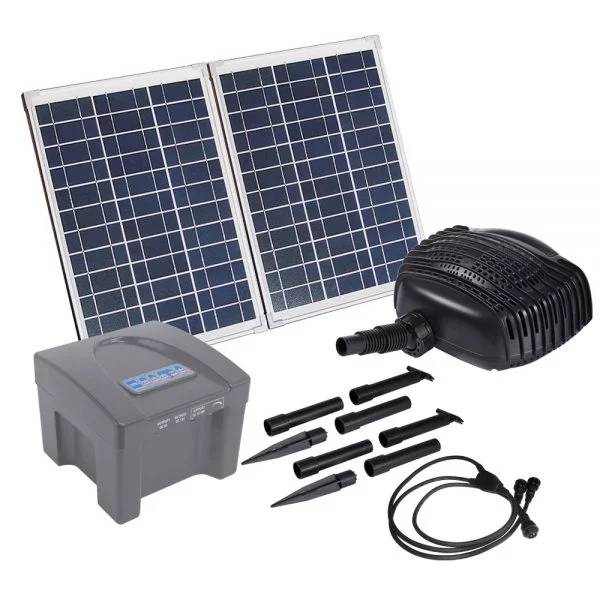 Silicon Solar's custom 24V AquaJet kit is the best of its kind on the market. Equipped with high-quality solar panels and a dry run protected pump system, the AquaJet is strong, reliable, and features the latest solar technology.
Run up to 100ft away (tubing)
Durable, long-lasting solar pump (dry run protection)
655.1 GPH Max pump output
Great for larger fountains or waterfall projects
Automatic timer
Questions? Just give us a call at 1-800-786-0329 9AM-5PM EST.
Description
Additional information
Reviews (9)
Brochure & Datasheets
REPLACEMENT PARTS & ACCESSORIES
Description
Solar Water Fountain High-Powered Pump Kit 655.1GPH– AquaJet Custom Kit 24V with Battery Backup
Silicon Solar manufactures industry-leading solar fountain pump kits. The AquaJet 24V Custom Solar Fountain High-Powered Pump Kit is built with the highest quality, commercial-grade parts and components with water sealed connections. The AquaJet Custom series is among the largest solar water pump kits we offer in the AquaJet series. We've taken all of the learning lessons over the past 15 years of manufactured solar water pumps and incorporated them into the Custom series pumps.
Features:
Garden Decor Waterfall System
Garden Irrigation
Green House Irrigation
Fish Ponds
Run up to 100ft Away (tubing)
Durable Long Lasting Solar Pump
Dry Run Protection Feature
Automatic Timer (saves battery when you don't want to run it at night)
Battery Back Up for Night/Overcast Operation
Brushless Pump for Maximum Reliability
Easy to Clean and Maintain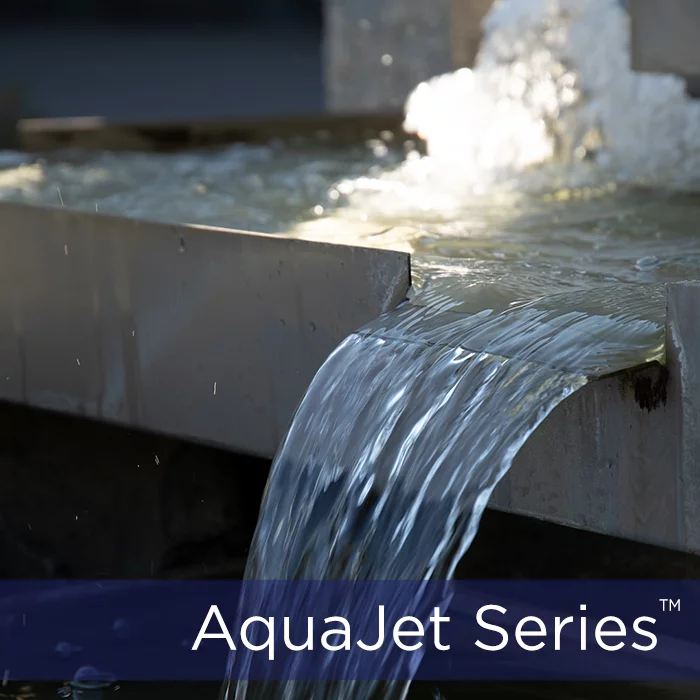 Solar waterfall using AquaJet Custom 24V pump kit. High flow.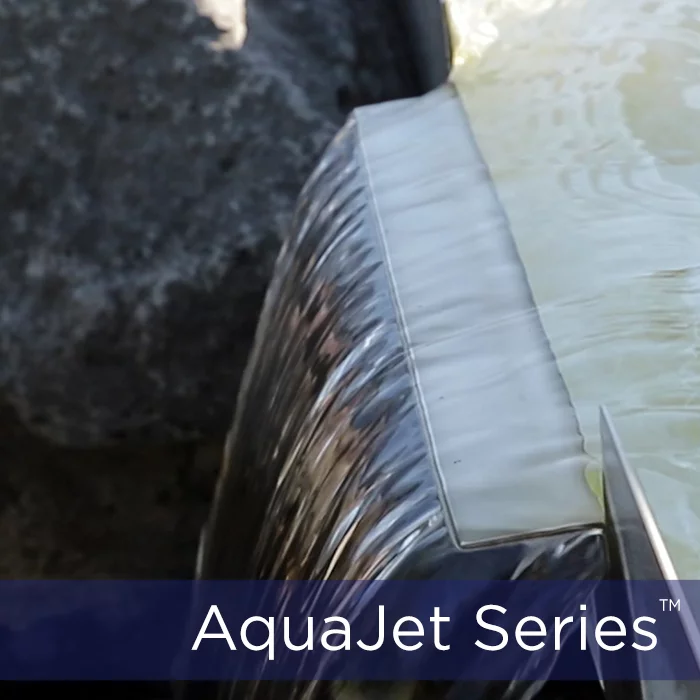 Commercial waterfall feature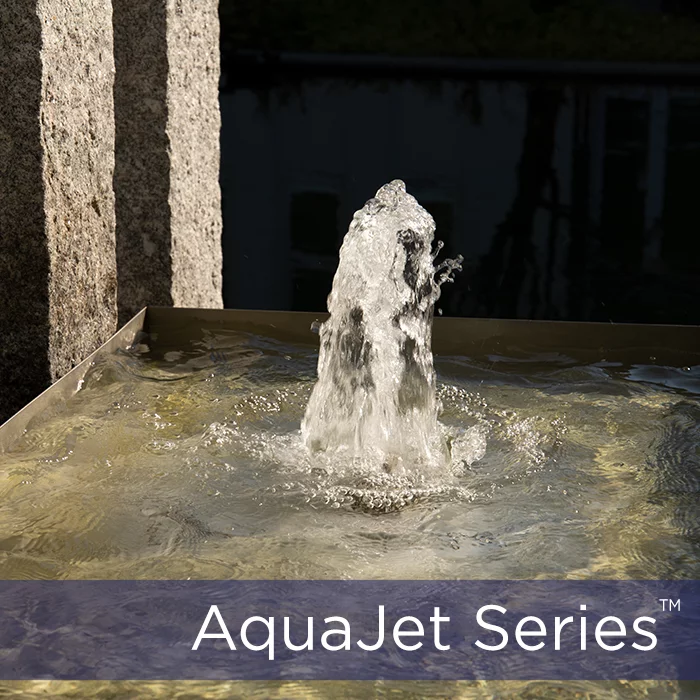 ~655 GPH water fountain permanent installation with battery backup
What makes the AquaJet series different compared to the competitors?
Our solar pumps are 100% manufactured in house. We control the quality of the motor winding and final assembly. This ensures the pumps maintain a level of tolerance needed for long life operation. It's very common companies use thin / low quality motor wire (for winding of the magnets inside of the pump), while this is more cost effective, these pumps typically overheat and last less than 1 year. How do we know this? We've been making pumps for 15 years, and we've learned our lessons.
The 24V AquaJet Custom High-Powered Pump Kit with Battery Backup is totally solar powered, which means there is no plug necessary! There will be no more cables and wires running all over your gardens and ponds! The 24V AquaJet Custom Solar Fountain High-Powered Pump Kit with Battery Backup includes a brushless solar pump with dry run protection to maximize the performance and reliability. The 24V AquaJet Custom Kit with Battery Backup comes with a battery backup system  which allows the pump kit to operate at night time and during overcast weather conditions.
The 24V AquaJet Custom High-Powered Pump Kit with Battery Backup comes with a 50 watt solar panel, accessories for ground staking of the solar panels, a backup battery, and the fountain pump.
Add some styles and character to your water landscape and pond! Get the 24V AquaJet Custom High-Powered Pump Kit with Battery Backup by Silicon Solar!
Specifications:
Solar Panel: 50W mono-crystalline
Operating Voltage: 12V – 24V (Variable output you can adjust)
Battery Backup: 12V / 12aH
Max Water Lift: 3m / 9.8 ft
Max Flow Rate: 655.1 GPH
Cord Length: 16 Feet (Panel to Battery) and 16 Feet (Battery to Pump)
Tubing size: 1″ (inside diameter)
Ground Stake with Screws to Secure to Panel
Manufactured by Silicon Solar
Need a pump filter bag? Click here for the compatible pump filter bag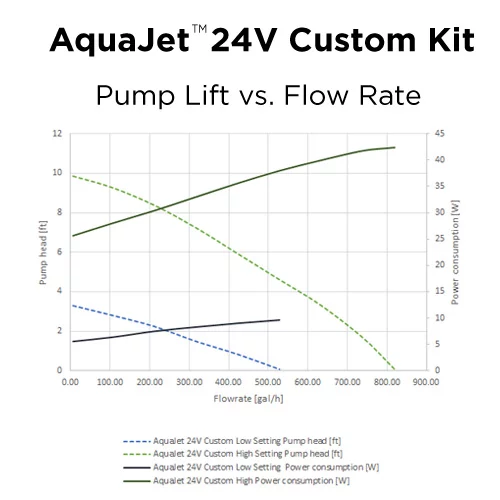 The above curve shows the relationship between pump head (in feet) and the flow rate (in gallons per hour). By controlling the flow rate, the pump is able to put a variable amount of power towards pushing the water upwards. The higher the flow rate is set, the lower the overall head height will be. This is useful for sizing if a particular pump can be adjusted to fit your particular fountain and how it will perform for your specific application.
Frequently Asked Questions
The Custom Kit 24V-V2 has a battery backup and as long as it has a full charge it will work at night or on a cloudy day.
This pump as well as our other pumps are dry run protected.
Yes, this has a maximum lift of 6.9ft
Additional information
| | |
| --- | --- |
| Weight | 42 lbs |
| Panel Wattage: | 50 W (25W x 2) |
| Operating Voltage: | 17.28V |
| Battery Backup: | 12V / 12Ah |
| Max Pump Head: | 6.89 ft |
| Max Flow Rate: | 16.4 ft |
| Cable Length (Pump to Batter Box): | 16 ft |
| Cable Length (Battery Box to Solar Panel): | 16 |
| Adjustable Flow: | Yes |
| Dry Run Protected: | Yes |
ABOUT US
Since 1999 we've helped thousands of customers with their renewable energy projects. From science projects to solar powered container tracking systems, our team is here with 20 years of experience to help you with your project. If you're ever in the area, we invite you to stop by.
Learn more about our history here
.
Solar DIY Project & Idea Guides from our Customers
Find the most recent DIY project and idea guides for your next solar project.
Electroluminescence (EL) Solar Cell & Panel TestingDid you know that EL testing and prevent your solar cell or solar panels... read more