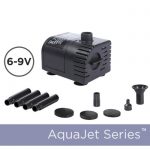 Solar Fountain Submersible Pump AquaJet Pro 6-9V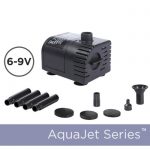 Solar Fountain Submersible Pump AquaJet Pro 6-9V
$39.95
$39.95
Description
Additional information
Reviews (15)
Brochure & Datasheets
Videos
Description
AquaJet series replacement 6-9V brushless solar water pump. If you are looking for complete solar pump kits, scroll below to view the project gallery where you can get ideas for different solar water feature projects.
Compatible Model Kits
Specifications:
Max Flow Rate (GPH): 100
Max Head (lift): 50 inches
Nominal Voltage (V): 6-9 DC
Max Voltage (V): 12V DC
Max Power (Watts): 20
Pump Dimensions: 2.87″ x 1.93″ x 1.57″(this is space the pump takes up)
Wire Length: 16 feet
Dry Run Protection: Yes
Adjustable Flow: Yes
Manufacture: Silicon Solar
Connector: Includes AquaJet series plug and play connectors (for direct replacement with the above kits)
Weight: 2lbs
Water Feature Project Examples & Ideas
We've put together some videos and photos from our customers and staff on ways you can build out your water feature and incorporate a solar pump. We hope you will enjoy!
SOLAR PUMP SIZING GUIDE
Solar Pond Aeration
Looking to add a little aeration to your backyard pond or birdbath? Our solar pump kits are practical solutions to keep your water features healthy.
Water Fountain Retrofit Solar Pump Kits (Retrofit your existing water fountain)
Have an existing water fountain you want to move away from the house without having a long extension cord and electric bill? Our solar pump kits are practical and cost effective solutions for retrofitting your fountain or landscape ponds.
Building a Solar Waterfall?
Building a waterfall in your backyard can be a fun project when you don't have to worry about paying an electric bill for operating your water pump or hiring an electrician to install underground wiring and conduit from your home's power supply. We offer simple, safe, and cost effective solutions for bringing your backyard waterfall project to life.
Frequently Asked Questions !!
No, this pump comes with 4 heads.
This is just the pump. If you want a kit you should order the Aquajet-Pro-Kit-9V-V1.
Additional information
| | |
| --- | --- |
| Weight | 2 lbs |
| Operating Voltage: | 6-9v |
| Max Lift: | 3-4 ft |
| Max Flow Rate: | 100 gph |
| Included Fountain Heads: | 4 heads |
| Adjustable Flow: | Yes |
| Dry-run Protected: | Yes |
| Salt and Fresh-Water Capable: | Yes |
| Dimensions: | 2.87" x 1.93" x 1.57" |
| Brand: | AquaJet Pro |
| Manufacturer : | Silicon Solar |