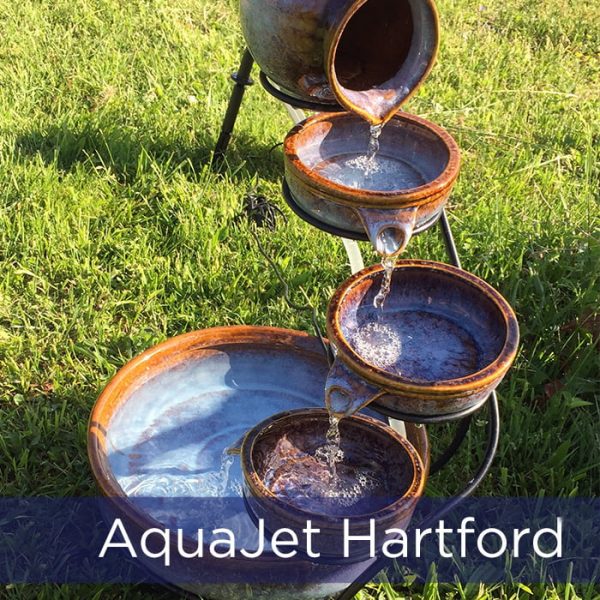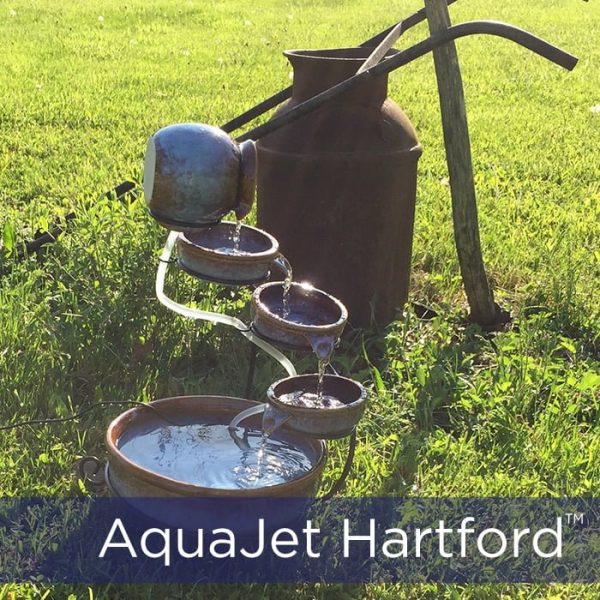 Hartford Cascading Solar Fountain Birdbath
Hartford Cascading Solar Fountain Birdbath
$149.95
$149.95
Description
Additional information
Reviews (1)
Description
AquaJet Cascading Solar Fountain
Our Hartford Cascading Solar Fountain constructed from durable metal with a weatherproof hand finished glaze over earth-toned dyed clay. The water cascades through five clay dishes. The sunlight not only shimmers off of the trickling water and beautifully glazed finish but also powers the discrete 6 volt fountain pump. The Hartford Solar Cascading Solar Fountain gives off an ideal soothing sound perfect for a calming effect in an office on a deck or patio or out in a garden. It is easy to optimize exposure to the sun as you can place the solar panel from our AquaJet solar fountain pump up to 10 feet away from the fountain. This allows you to place The Hartford Cascading Solar Fountain anywhere in your garden or patio and your solar panel can still receive direct sunlight. Once in place sit back and enjoy the power of the sun at no electrical cost to you!
Specifications:
Weight: 5 lbs
Dimensions: 15 diameter x 19 tall
Material: terracotta with protective glazing (see photos)
Features:
Frost resistant
Stand made of durable metal
Includes newer high performance pump system
Relaxing addition to your home or office
Water Feature Project Examples & Ideas
We've put together some videos and photos from our customers and staff on ways you can build out your water feature and incorporate a solar pump. We hope you will enjoy!
SOLAR PUMP SIZING GUIDE
Solar Pond Aeration
Looking to add a little aeration to your backyard pond or birdbath? Our solar pump kits are practical solutions to keep your water features healthy.
Water Fountain Retrofit Solar Pump Kits (Retrofit your existing water fountain)
Have an existing water fountain you want to move away from the house without having a long extension cord and electric bill? Our solar pump kits are practical and cost effective solutions for retrofitting your fountain or landscape ponds.
Building a Solar Waterfall?
Building a waterfall in your backyard can be a fun project when you don't have to worry about paying an electric bill for operating your water pump or hiring an electrician to install underground wiring and conduit from your home's power supply. We offer simple, safe, and cost effective solutions for bringing your backyard waterfall project to life.
Additional information
| | |
| --- | --- |
| Weight | 19 lbs |
| Dimensions | 12 × 12 × 12 in |