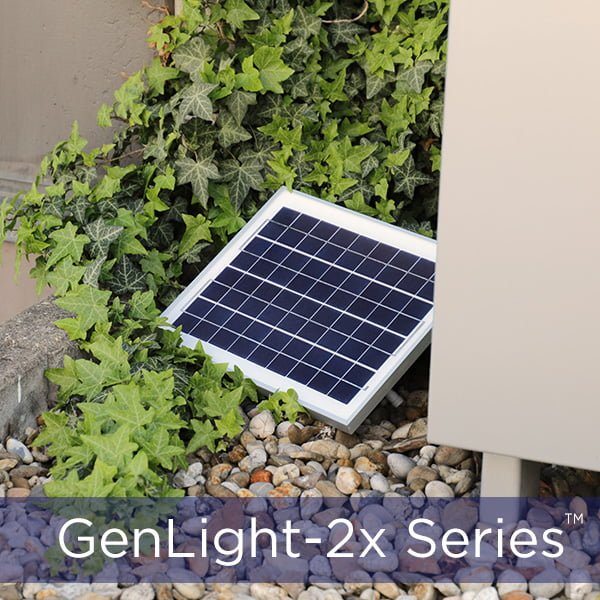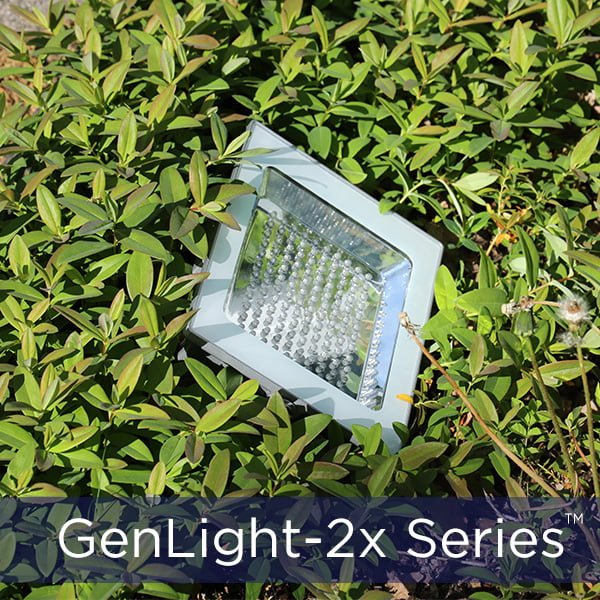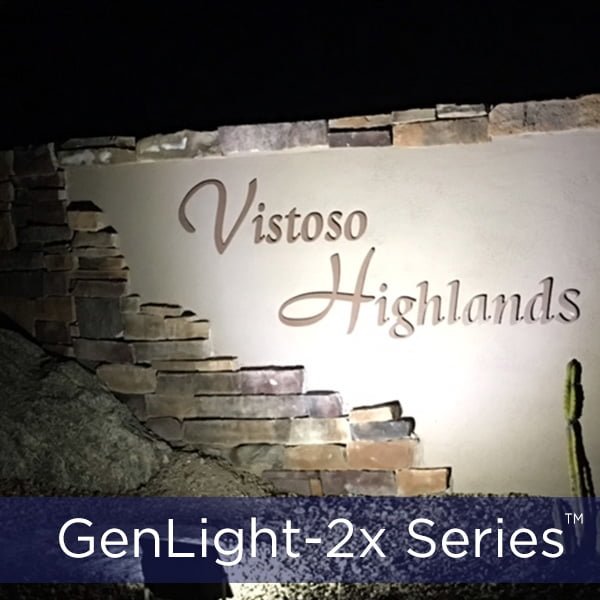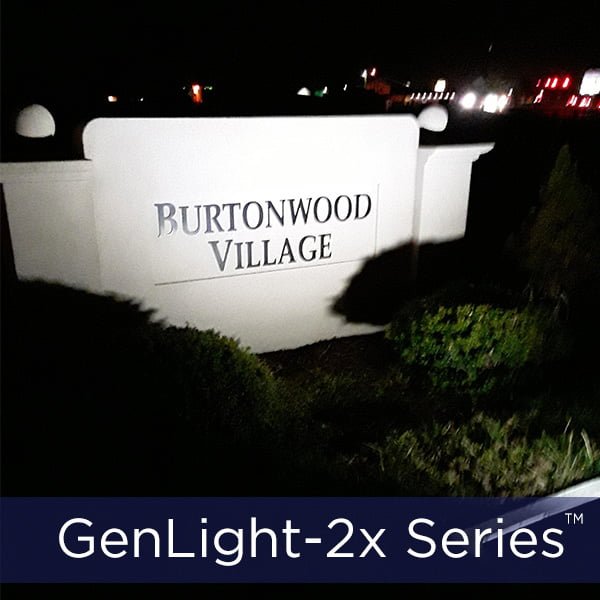 Solar Sign & Flood Light with 150 Watt Output
Solar Sign & Flood Light with 150 Watt Output
$499.95
$499.95
Our GenLight 2X LED solar sign and flood light is built on reliable solar energy technology and customer feedback since it's invention in 2001. Years of feedback from our customers has pushed us down the design path of simplicity and reliability. Each GenLight-2X is plug and play out of the box.
Great for lighting billboards, trees, structures, walls, large area entrances, and pathways
Integrated battery, controller, and light fixture – save space and install time
Customer bulk discount: Receive $50 per light when ordering two or more lights (use coupon code mt339yqy at checkout)
Great for lighting up 30-50 square feet per light (~4 x 10 feet)
Li-Ion next gen battery storage and controller (2x the lifespan)
Description
Additional information
Reviews (35)
Videos & Datasheets
Replacement Parts & Accessories
Description
See how our customers use the GenLight-2X for their sign lighting project.
Need help picking the right sign light for your sign?
Save $50 per light when ordering more than one. Coupon code mt339yqy at checkout.
GenLight 2X LED Solar Sign Light –  Solar Lighting Kit
The next generation of GenLight solar sign light kit utilizes high efficiency (100 lumen / watt) LEDs and PWM lighting control circuitry for improving it's energy efficiency. In 2001 the first GenLight solar sign light was manufactured in upstate New York. Today, we've captured the years of technology and customer feedback into our new and improved GenLight-2x.
Our GenLight 2X LED solar sign and flood light is the most advanced, easy-to-use, and popular commercial solar lighting system on the market today.
Since its first generation, the GenLight has proven to be one of the most reliable, efficient, and cost-effective investments available.  The GenLight 2X solar sign & flood light features a patent pending design and generates more than 150W of light output all night, every night.
Features:
Great for lighting billboards, trees, structures, walls, large area entrances, and pathways
Requires light assembly 15 minute installation
Like all solar lights, the batteries will need to be replaced after 3-5 years. We offer replacement batteries which require 10-15 minutes and basic screwdrivers for changing out the battery inside of the light fixture.
Very durable housing (cast and powder-coated aluminum)  with commercial grade solar panel
On/off switch
Capable of lighting 15 ft x 10 ft signage
Specifications
Light Fixture:
Light Fixture: 11″ x 9″ x 3.5″
Light Fixture Weight: 13.8lbs
Light Fixture Material: Cast and powder coated aluminum
Weatherproof Rating: IP65
Lighting Circuit Efficiency: 85%
Lumen output per fixture: 1000 (150 watt equivalent)
Headlight Protection (prevents light from turning off when car drives by): Yes
Light Operation Duration (Dusk till dawn): 14 hours
Storage Battery Technology: Lithium Ion
Storage Battery Replaceable: Yes
Warranty: 10 years
Solar Panel:
Solar Panel: 13″ x 11″ x 3.5″
Solar Panel Type: 20% efficiency mono-crystalline.
Solar Panel: 5lbs
Solar Panel Wattage: 10W
Solar Panel Type: Tempered glass with anodized aluminum frame
Solar Panel Upgrade Power: Yes, can add additional panel below
Manufacturer: Silicon Solar
Brand: GenLight
Warranty: 3 Years
When you invest in the GenLight 2X:
Eliminate the installation costs and hassle of your sign & flood lighting.
No electric bill.  Because the GenLight 2X is completely solar powered there is absolutely no monthly electric use or charge to run it – this can save you hundreds or thousands of dollars over the life of your GenLight 2X.
Automatic dusk till dawn operation (integrated controller).  The GenLight uses today's latest photo-eye technology to deliver 100% automatic operation – once installed your GenLight will turn on automatically every night and off to recharge every day.
Popular applications:
Housing association sign light
School sign lighting
Landscape monument lighting
Flood and area lighting
Military base sign and monument lighting
How does the light perform in cloudy and cold weather?
The GenLight series sign lighting systems are engineered in Upstate New York where we have some of the most "enjoyable" winter weather and cloud cover. In general, the Genlight is suitable to be used in all climates. We do recommend customers purchase an additional solar panel if they are concerned about dusk till dawn operation in Northern states. If you're not sure, just let us know and our techs can check to confirm the best solar panel size based on location and sunlight levels. We can easily add an additional panel if you find out after you've installed your lighting system that you need more energy for operation into the evening.
What's included with the GenLight 2X
Each GenLight 2X includes everything you need to install the solar light right out of the box: the GenLight 2X commercial-grade light fixture,  10W mono-crystalline solar panel, internal Li-Ion battery for energy storage , and 15 feet of wire allowing you to appropriately position the solar panel and lighting fixture.  Mounting brackets are optional but recommended for secure installation, as well as optimal placement of both the solar panel and the light fixture.
Solar panel
Solar panel mounting kit(tilt up mounting, see photos)
Solar light mounting (anchors included)
Integrated light fixture, battery storage, and controller
Wire from light fixture to solar panel
And in case you were concerned the GenLight 2X is designed to withstand basic vandalism as well as stand up to some of the toughest, nastiest weather that the planet can throw at it (we use these in the middle of winter in upstate NY!).
1. 120 Ultra-Bright LEDs
Our high-intensity white LEDs deliver consistent light at a beautiful wide-angle coverage of your sign at night (reduces "hotspots"
2. Weatherproof Aluminum Body
Rugged enough to stand up to the toughest climates including cold, northern winters, the GenLight 2X lasts for years
3. Manual ON/OFF Switch
Simple on / off switch (for servicing / storage)
4. Light Fixture Mounting Bracket
Quickly and securely mount the light fixture to a post or wall with the adjustable, heavy-duty mounting bracket
5. High-Efficiency Solar Panel
The included mono-crystalline solar panel delivers high-efficiency, reliable and power and rugged performance
6. Solar Panel Mounting Frame
Tilt mount the solar panel on a roof or the ground with the included, heavy-duty mounting frame in only a few moments
Solar Panel & Light Fixture Mounting Options
Easy to mount solar panel mounting included
Mounting bracket on light fixture for easy mounting (to post / standoffs)
GenLight Mounting Accessories
Find below a selection of different mounting accessories to mount your GenLight 2X solar powered sign lighting kit. All items items are manufactured in our facility in Upstate New York.
Solar Sign Light Sizing Guide
| | | | | |
| --- | --- | --- | --- | --- |
| Sign Size | Timer | Solar Panel | Model | Light Output (lumens) |
| 2 x 4 ft (both sides) | YES | Integrated with fixture | SunPal-2X | 180 |
| 2 x 4 ft (per side) | NO | Integrated with fixture | SunPal-4X | 80 |
| 4 x 8 ft (per side) | NO | Separate from light fixtures | PatioPal-24LED | 450 |
| 4 x 8 ft (per side) | NO | Separate from light fixtures | PatioPal-28LED | 100 |
| 10 x 15 ft (per side) | NO | Separate from light fixture | GenLight-2X | 1000 |
| 12 x 15 ft (both side) | YES | Separate from light fixture | GenLight-4X | 750 X 2X |
| 15 x 40 ft (custom) | YES | Separate from light fixture | EnviroLight | Custom lighting based on requirements |
| Interior illuminated sign | YES | Separate from light fixture | GenLight-4X Strip | 675* Custom options available |
Need additional help with sizing your sign light? We offer custom in-house made in the US sign lighting solutions for all solar sign lighting applications. Just give us a call or send us a message below. The lights above which indicated "NO" for timer are dusk-till-dawn operation.
Yes, the light can be mounted on a post or building.
Yes, this light has an auto feature that will come on at dusk and go off at dawn.
It will illuminate approximately a 15′ x 12′
Additional information
| | |
| --- | --- |
| Weight | 18.80 lbs |
| Dimensions | 12 × 12 × 14 in |