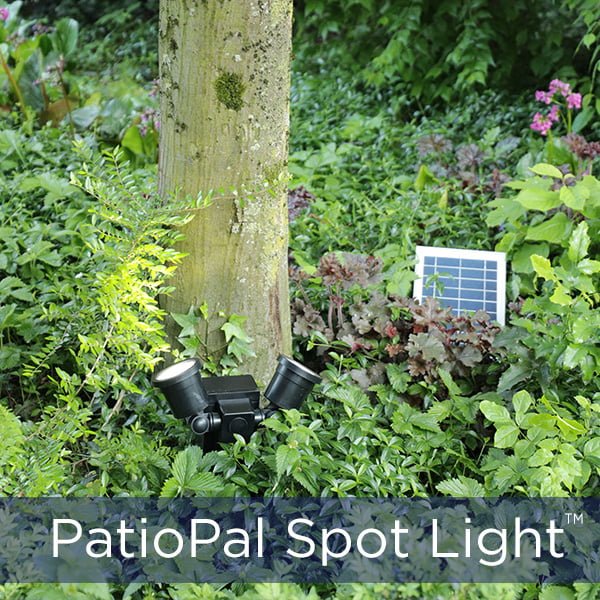 36-LED Multi Purpose Solar Flag – Spot and Tree Up-light
36-LED Multi Purpose Solar Flag – Spot and Tree Up-light
$149.95
$149.95
Elegance packaged with high tech solar technology, the PatioPal multi purpose solar spot and up-light help transform your landscape. Our customers asked for a proper up-light system – so we delivered. Perfect for up-lighting trees, shrubs, flags, walls or entrances.
36 Ultra Bright White LEDs
Light Output Equivalent: 60W, 600 lumens (two 300 lumen spots).
Dusk til dawn operation, plug and play.
Separate your solar panel up to 10ft away from the main spot light fixture
Free shipping in continental USA
Description
Additional information
Reviews (8)
Videos
Description
Special till end of August (Aug 31st) offer: Buy two or more PatioPal-36LED solar lights and get $20 off each unit!  Enter coupon code: QJ3EUNXT
Multi Purpose Solar Spot and Up-light
Since 2005, the PatioPal series solar lights offer the industries leading solar technology packaged into a versatile solar spot lighting product. Each unit is plug and play, easy to use without the need for additional tools / equipment. The solar panel recharges the internal battery automatically with dusk til dawn lighting operation. Each LED fixture is on its own swivel head, making it easy to change the direction of the light for spot lighting and up-light applications.
Features:
36 Ultra Bright White LEDs (18 in each spot)
Wire length from solar panel to light housing (allows you to locate your solar panel in a different location): 10ft (~3 meters)
Light Output Equivalent: 60W (30 watts from each spot)
Output (Lumens): 600 (300 from each spot light)

The Spot Light is dusk to dawn operation as long as the Solar Panel has had a full day of sun to charge. It may not work as efficient if it has been overcast for a few days. (integrated low voltage disconnect prevents battery from over discharging and shortening its lifespan).

High efficiency mono-crystalline solar panel
Easy plug and play ground stakes for vertical mounting (see photos). Two mounting stakes are included, one for the solar panel and one of the light fixture and battery storage.
2 year limited warranty
What's included with your lighting kit 
(1) Mounting bracket + stake for solar panel
(1) Solar panel
(1) Solar light fixture, rechargeable battery, charging controls (one integrated fixture)
(1) Ground stake for solar light fixture
What do you need to install you lighting kit? 
No additional tools or materials are required. The light kit is plug and play.
Application Guide
Solar Flag Lighting:
Most of the solar flag lights on the market are not bright enough to keep your flag illuminated during the night. This product was originally designed and developed to illuminate smaller flags (12-15ft off the ground 2 x 3 ft flag). It's easy to install and can be easily mounted directly to a flag pole using a standard pipe clamp. Operation is simple, mount the plastic fixture and plug in the solar panel. The unit is not hurricane-proof, yet it will withstand "normal" weather conditions.
Solar Tree & Shrub Lighting:
If you are tired of having to use Electric to light up your landscaping – this is the perfect solution. The unit does include a ground stake, which allows the light to be mounted anywhere you have soft soil. Maintenance is minimal and it provides a cool white LED lighting.
Solar Sign Lighting:
Need to illuminate a sign? This is a perfect solution and cost effective alternative for solar sign lighting. We have provided another guide below for determining which size solar sign light is best for your application.
Ideas for solar spot and up-lighting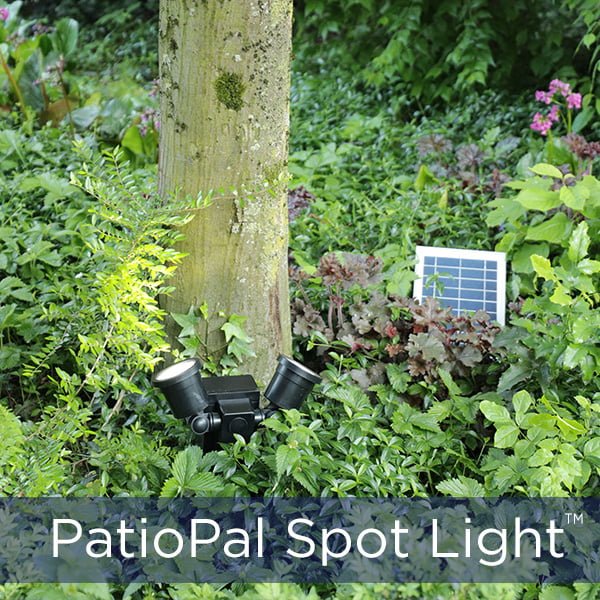 Solar tree uplighting. Up to a 15 ft tree. For taller trees, try our PatioPal-36LED
Integrated solar panel and light figure allows you to keep a small footprint. Alternatively, you can locate the solar panel away from where the spot lights are located (for maximum sunlight)
Simple tree / shrub uplight solution.
Nighttime shot of a 45ft tree. Dual spot heads allow you to change where you want the spot lights to focus.
A little overexposed photo 🙂 … however the light nicely accents smaller shrubs and trees.
Example of how you can illuminate a flowerbed.
Frequently Asked Questions
Yes, with a full charge it will illuminate approximately 10 hours.
No, the housing body is made of weatherproof ABS plastic.
We offer the replacement battery, no problem. Depending on the weather conditions, our customers are typically replacing the batteries every 3-4 years. It takes about 10 minutes with a normal screw driver to replace the batteries.
The PatioPal spot light contains two rotating heads (spots), that allow you to rotate them independently of each other. Each head has it's own tension bolt, letting you lock the orientation of each spot light. It lets you illuminate different tree's / shrubs.
We recommend placing the solar panel in a location which receives maximum sunshine for the best performance. One nice advantage of this light is having the cable between the solar panel and the light, letting you place the solar panel and light fixture in different locations.