Solar Pool Pumps
Adam
Silicon Solar is an industry-leading developer, manufacturer and distributor of the world's best solar powered products. Our line of HydroJet solar pool pumps are no exception.
A conventional pool pump for a backyard swimming pool typically costs about $60 – $90 a month to operate in much of the US. This amount can dramatically more in the carribean and other areas of the world. However, HydroJet solar pool pumps from Silicon Solar eliminate the cost of running your pool pump…saving you hundreds of dollars a year in operation costs.
The savings will completely pay for the cost of your HydroJet solar pool pump in short order, making a solar pool pump one of the most cost-effective investments you can make for your home.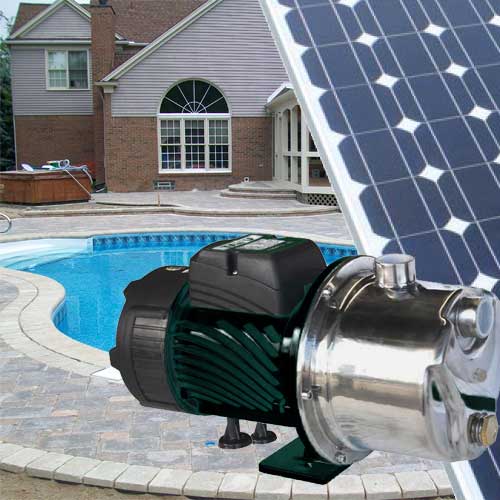 Why Choose A HydroJet Solar Pool Pump From Silicon Solar?
Your pool pump is powered 100% free using the energy of the sun
While a conventional pool pump lasts 3-5 years on average, a HydroJet solar pool pump is designed to last 10 years, or more
The expected lifetime of solar panels is 25-30 years
HydroJet solar pool pumps run on 100% solar power – which means absolutely no electric cost
There is a 30% federal tax credit for the purchase of solar power systems – plus most states have additional incentives and rebates to increase the savings even more
In many states, solar power systems are exempt from sales tax – this can save you an additional 7.5% on the cost of your solar pool pump (depending on the state and county)
HydroJet solar pool pumps require almost no lifetime maintenance when used in residential, commercial or municipal applications
Your HydroJet solar pool pump will be strong enough to operate your existing pool heaters and automatic cleaners
On average, a HydroJet solar pool pump saves more than 11,000 pounds of carbon and other pollutants from entering the atmosphere every year
In many instances, a HydroJet solar pool pump can increase the value of your home by up 20x the actual energy savings you experience
Need More Reasons To Get A HydroJet Solar Pool Pump? How About:
HydroJet solar pool pumps are ready to order today
Pre-wired and tested before it's packaged and shipped
Ready to install and run right out of the box
Warrantied in the United States
DC GFCI (DC disconnect with built-in lightning arrestor)
Assembled and tested in the USA
How Much Can You Really Save With A HydroJet Solar Pool Pump?
Using a few simple calculations, we can determine exactly how much your current pool pump costs you to operate. With a HydroJet solar pool pump, you will save that amount every year!
Calculate Your Annual Savings
Pool Pump Volts x Pool Pump Amps = Pool Pump Watts
Divide Watts by 1000 = KWH
KWH x hours per day (run time) = HWH / day
KWH per day x number of days in billing cycle = KWH/Month
$/KWH x KWH/Month = monthly savings with HydroJet
Monthly savings x 12 = Annual savings with HydroJet
Example Savings With A HydroJet Solar Pool Pump:
230 volts x 9.3 = 2139 watts
2139 / 1000 = 2.139 KWH
2.139 x 10 hours = 21.39
21.39 x 30 days = 641.7 KWH/month
641.7 x .129 cents per KWH = $82.78
$82.78 X 12 months = $993.35
Please note that your savings will vary depending on your cost for electricity, your pool pump model / size and how long you run your pool pump every day.
Additional Resources & Information:
Need help finding the right solar pump for your pool?