Solar Billboard Lighting & Sign Lights
Adam
Why Choose
EnviroLight Solar BillBoard Lighting Kit
16 Years
Industry Experience
5 Year
LED & Battery Warranty
Pre Sized
& Designed Systems
Why choose Silicon Solar EnviroLight Solar Billboard Lighting Kit?
Didn't Find What You Need?
Need A Custom Lighting Solution?
Contact our team of solar lighting engineers for a customized solar lighting package that meets your specific needs today!
Silicon Solar has always been the industry leader in Solar Billboard Lighting System for more than 10 years. Every kit is designed and developed by our solar sign light experts to keep optimize the lighting illumination. The EnviroLight Series is designed to light up your billboard and sign, no matter it is for residental or commerical use.
Installing a grid tied standard billboard light system are expensive! The installation included trenching, relandcaping, and the cost of connecting to the grid, etc. But when you are using the EnviroLight Solar Billboard Light Series, you can eliminate the cost for trenching, relandcaping, and the connect cost. But most IMPORTANTLY, you will never receive the electric bill for the lighting, because it is 100% powered by solar! You cannot even imagine how much you can save by going solar on large billboard and sign with the EnviroLight Solar Lighting Kits. And you will not have to deal with tons of wires and connect it to the grid! Totally plug free.
The EnviroLight Solar Billboard Lighting System is designed to operate under extreme climates and enviroments. Built with commercial grade and best quality of materials, the parts and components for the EnviroLight Solar Billboard Lighting Kit is easily one of the most durable solar billboard light system in the market. Silicon Solar also offers components warranty for customers to make sure our components are greatly built and durable.
All the kits are pre-sized, which means they are all good to go!
EnviroLight Commercial LED Fixture Datasheet & Submittal
View The LED Fixture Datasheet & Submittal
Custom Solar Light Sizing Form & Brochure
Sign Lighting Sizing Survey
Billboard Lighting Brochure
Trader Joe's Billboard Lighting System
A Customized EnviroLight Solar Billboard Lighting System Light Up The Trader Joe's In Huntington Beach, CA.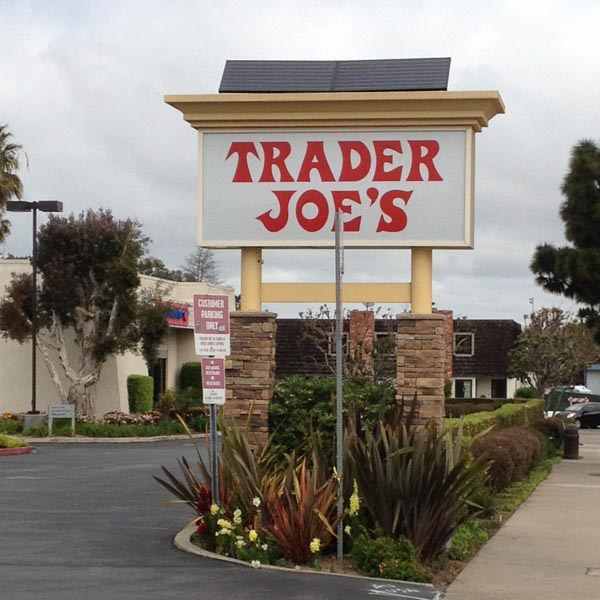 There was a major power failure at the Huntington Harbour Mall in Huntington in California before the Trader Joe's in the mall decided to install a new billboard/sign light system.
The owner of the property – D.D. Dunlap Companies looks for different traditional electical lighting system, but the price tags are all between $13,000 – $14,000.
After different considerations, the D.D. Dunlap Companies decided to use a solar billboard/sign lighting system from Silicon Solar – The Envirolight Solar Billboard Lighting System.
The new Solar Billboard Lighting System consist of a Envirolight 2X Solar Billboard Lighting System and a GenLight X LED strip Light. With this billboard/sign light combination, the Trader Joe's sign are always light up by solar energy every night without paying $1 to the electric company. The whole system is under $4,500 included the installation and setup fee.
Trader Joe's goes green and seeking solar solution for the better future for our world!
Financial Details
Solar Materials Cost
$ 3610
Installation Cost
$ 500
Total Project Cost
$ 4110
Federal Incentives
$ 0
State / Local Incentives
$ 0
Calculated Payback
2 Years
View All Of Our Solar Billboard Lights
Featured Solar Lighting Installations & Projects
A Look At Solar Sign Lighting Projects Across The United States
Trader Joe's Solar Sign Light
Ommegang Brewery Solar Sign Light
Mayport Naval Station Solar Sign Light
Town of Sidney Solar Sign Light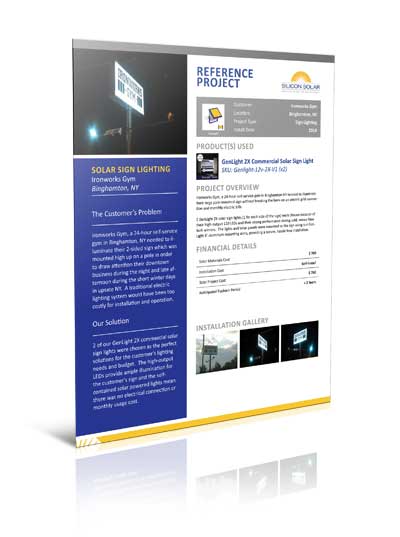 Ironworks Gym Solar Sign Light