Silicon Solar Inc Reviews, Customer Service
Adam
9/22/2014 – www.ResellerRatings.com
The solar sign light of Silicon solar works really amazing. It helps my business extend hours of exposure and even got more exposure well into the night. This product helps me in many ways without spending more; It even operates at no cost so I don't have to pay anything once purchased.
9/22/2014 – www.ResellerRatings.com
I bought one of Silicon Solar's water fountain and I am extremely happy with how it looks and works in my garden. It's like having a taste of nature at the comfort of my home. Me and my wife did have fun installing it, I like the design which perfectly fits our garden. Silicon Solar's service is as good as their product! Thanks!
1/9/2013 – www.ResellerRatings.com
I have found Sillicon Solar an extremely knowledgeable and helpful company. We purchased 8 sets of outdoor solar lights and they have been extremely helpful with all aspects of our concerns. Talk to Matt because he goes out of his way for you and is a problem solver.
9/30/2010 – www.ResellerRatings.com
My overall experience was positive, but not without a couple of glitches. After placing an order with Silicon Solar, I ran into a problem. The two items I ordered were not compatible, although recommended on the web site to purchase together. I immediately emailed the company. I received a form reply to expect a response. No response in two weeks. I called. My phone conversation was "painful" in that I felt I had to fight for my position and was given unnecessary roadblocks. However, after requesting a replacement pump, I was told to expect an email with an RMA. It came promptly. I returned the item. The replacement came promptly. It worked with the adapter I had ordered previously. Then I discovered that I had been billed twice for the same order. It had been a glitch on the web site that occurred on my initial order. Solar Silicon credited my account a month later with no prompting from me. I am happy with the pump and adapter. The products I ordered came promptly. The customer service still needs some improvement, but I got what I wanted.
2/20/2009 – www.ResellerRatings.com
I ordered a Pre Packaged SHW with Storage Tank and a few of the evacuated solar tubes had cracks in them. I called the customer service line, and replacement tubes were sent to me quickly and without cost. I was very impressed with the knowledge of the employees, as I also had some questions about my new system, but overall I gave the customer service an A+. Nothing is more frustrating than spending thousands of dollars on a product and not getting the help you need. So, Thanks Silicon Solar!!!! I will surely order from this company again
1/30/2009 – www.ResellerRatings.com
I bought their solar chrismas lights originally to decorate my little brother's treehouse. They worked great and arrived when they said it would. I go to Cornell University and found out that they had opened an office by the mall, so I went in and talked to some of the people there, all very nice and helpful. They are great people and when I save up some money I am going to buy some more lights for my bro's treehouse!
1/28/2009 – www.ResellerRatings.com
I bought one of their sunMaxx systems and was looking for some information online for installation diagrams on how to integrate the product with my existing heating system and found this instead. I have to say this company def had some issues but wow do they get the wrong type of feedback. I bought this system with little problems, product looks and works great after all the installation I saw done in their local area. As for installing the system, they forwarded me to a few of their authorized dealers and I'm scheduled this spring! Very excited and hang in there guys, your doing the right thing!
6/13/2007 – www.ResellerRatings.com
I received my product! I got what I ordered. I'm not sure I would have if I did not come here to Resellerratings and complained first. However since I did receive my product, perhaps not as timely as I would have liked, I will know to expect that if I make another order. Which I won't mind doing since I did indeed get my order.
I am happy to have received my order. As a customer I'd definitely appreciate better customer service on the turn around, and at least a warning if the product(s) are not available currently or if there are any complications that will put a delay on my order before being charged.
I did not make any formal complaints to the BBB or any like organizations other than here before my backorder date (Giving the benefit of the doubt, I felt I might have been scammed at first but had no evidence). My order arrived a bit early today on June 18. I have not operated my product yet, but am confident that it will work as the carrier (DHL) delivered the package with no obvious damage. Any problems from here on out will be either manufacture defect, unforeseen damage from shipping, or user error. Given Silicon Solar customer service so far, I can give a relative good rating. I was able to get through to a person very easily using the automated answering service when I called. I was able to get info regarding my order using my invoice # and account at SiliconSolar.com and over the phone with no problems, except I was given a tracking number to my order before my order was even sent? Not really a concern except the # didn't work at DHL.com. I wasn't able to get a chance to use it while my order was shipped so I cannot confirm whether the # worked eventually after the order was processed into shipping after being on backorder. I can see where there would be slight mix up there and why my tracking # might not have worked for a while. I can only assume the tracking # was generated before the product was shipped some how. Phantom tracking #s throw up all kinds of red flags in my mind so from a customer stand point that's stressful especially given the track record here.
Bottom Line… At least the products are real and do arrive eventually.
🙂 Thanks for not ripping me off Silicon Solar! I hope you guys can get things straitened out before I make another order. You guys got some great prices!
8/18/2006 – www.ResellerRatings.com
Great selection of products, fast shipping and excellent quality. Have purchased solar from other vendors (in Florida) and didn't have the same luck.
8/10/2006 – www.ResellerRatings.com
I've had a good experience dealing with this store via email and telephone. They replied promtly to all my querries and the solar fountain I purchased works as discribed. I would deal with them again.
3/27/2006 – www.ResellerRatings.com
Excellent selection of solar products. They provided me with great technical support and immediate order tracking information.
10/20/2005 – www.ResellerRatings.com
I complained about how hard it was to get through on the phone so I went there instead to see what was going on with my order. Turns out this company is no joke. They got trucks coming and out of this small office building, meanwhile as I'm walking up the steps, I look over and I see this huge building expansion to the side of an office building with pick up trucks all over the place of the front parking lot. I walk inside and phone ringing all over the rooms with people running around like wild rabbits. I caught a woman running through and grabbed her attention while she was on the phone. She asked for my Invoice number and she typed it in and quickly goes it will arrive at your house tomorrow because it left yesterday. I was like, thanks for letting me know. Went into their display room which they advertise as like 300 products and suprisingly looked at probably 150 solar garden lights. Had no clue they sold so many. So in summary for those of you who don't have time to read my story, i went there to complain and then realized this company is growing so I ordered some more products and had never seen a place so busy before. I'll be honest, these guys got something going and I wanna know when they start selling stock.
Nice people once I got to talk to them, and some awesome products.
10/20/2005 – www.ResellerRatings.com
First of all I would just like to say that I have purchase from Silicon Solar several times and am very satisfied with the quality of their products.
In response to many of the below postings, I'd like to give you a little background on Silicon Solar before you go running off to make assumptions. I live locally to the company and have known of their existence (since 1998) and have seen them grown into a well established organization in the area. They started as a research and development company in a small building designed and engineering solar energy products, since then they have moved a million times (almost) into larger, more suitable buildings. Reading the below posts is understanding given the considerable growth the company has experienced over the life of it's business. I know for a fact that the organizational members are there day and night always working (people are always coming and going, even at 11PM!!). It upsets me to read these criticizing posts in which people have no understanding of the dedication this organization has to its customers. If I ever have a problem with any of the solar products, they are more then willing to assist in repairing or replacing the product.
Regarding some posts below about the BBB, I went to the website and see that they don't even have the correct contact information or organization description, it's a wonder people can't get through on the phones when their calling the wrong number. I know the owners of the business and they are always willing to assist any level-headed customers with their needs. If you are having trouble, you can email the customer support manager (I called to get this) at [email protected]
Hope this helps! If anyone wishes to contact me, please do!
1/25/2005 – www.ResellerRatings.com
After reading many of the postings, I guess its hard to believe this company offers good products and services. I have been placing orders with this company for over two years now, and have yet to have any problems. I've ordered everything from solar cells to solar garden lights and every product meets the specifications and descriptions posted on the website. When I first purchased items from Silicon Solar, I was using them for my own personal use; however, currently I am using them in many of my own products. Currently I am using many of their solar lighting products, much more powerful them many other models sold. I would recommend purchasing their Solar Accent series light, they seem a but pricy, but you get what you pay for sometimes, and the light output and quality of these lights has not been matched by any lights I've purchased. In addition to the solar lighting, I also use their AquaJet solar pump kit. Basically this kit simply is set outside, (or you can even place the solar pump inside) and it will power water with most fountain fixtures.
Being a business owner I can understand how a few customers may slip through the cracks, and it always seems like those customer find away to make the best out by posting some fairly hash comments regarding their experience. I would defiantly advise purchasing from this company, they are one of the few companies that know their products well, manufacture them and always are willing to work with a customer that is willing to work with them. Cheers!
9/9/2004 – www.ResellerRatings.com
Just purchased an item from this company, solar fountain kit, works great! Thanks, i found it at www.siliconsolar.com/solar_fountains.htm
4/21/2003 – www.ResellerRatings.com
I needed some small DC motors for class projects at the middle school I work at. Made the order with my credit card and recieved the 30 motors promptly, well packed, and they work great.
Reference Projects
Solar Lighting Village of Sidney, NY
Solar Lighting Naval Station Mayport
Solar Lighting Ommegang Brewery
Solar Lighting Trader Joe's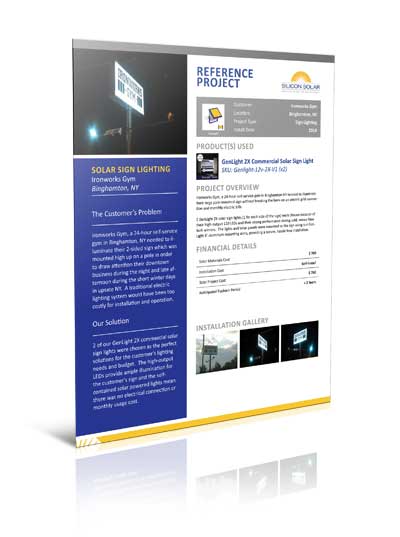 Solar Lighting Ironworks Gym