Bestselling Travel Solar Battery Chargers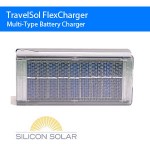 Solar Battery Charger AA AAA C and D
You Pay:
Buy Yours Online Today:
Recommended Addons & Upgrades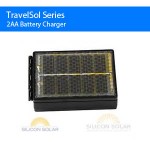 Just Need AA Batteries? Try This Travel Charger
You Pay:
Need A Travel Charger For Your Phone / Devices?
You Pay:
About Travel Solar Battery Chargers
Travel solar battery chargers from Silicon Solar are compact, lightweight affordable solar charging systems that are ideal for charging your mobile devices (cell phones, tablets, portable media players, etc) and your standard AA/AAA/C/D cell batteries while you are out of the house and on the go.
Each of our travel solar battery chargers features a high-efficiency solar panel, a reliable battery charging circuit and has been tested by thousands of Silicon Solar customers across the US and around the world.
Check out our featured travel solar battery charger to the right, or take a look at our entire selection of travel and mobile device solar battery chargers below.
Popular Travel Solar Battery Chargers | View All
Popular Phone & Device Solar Battery Chargers | View All
Dig Deeper
Why Shop With Us
Silicon Solar is, and always will be, a family owned and operated solar company dedicated to providing the highest quality solar powered products which have completed our rigorous quality inspection. We also manufacture a full line of solar powered products right here in our production facility; enabling us offer faster delivery and priority technical support.
Search our online catalog for hundreds of solar lights, solar fountains and many other products, including solar cells and solar panels. We also manufacture custom solar kits upon request for professors and educational programs.
Call us today for your solar request, 1.800.786.0329