Replacement Evacuated Solar Tubes 1800mm x 58mm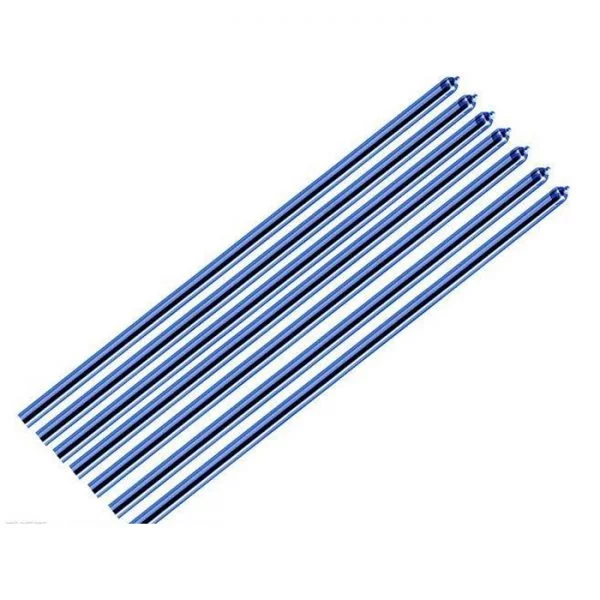 Questions? Just give us a call at 1-800-786-0329 9AM-5PM EST.
Description
Additional information
Reviews (0)
Description
Replacement Vacuum Solar Tubes 1800mm x 58mm:
Box of Ten 58mm x 1800mm Vacuum Replacement Tubes (no heat pipe included). You will receive a box of ten tubes. Vacuum tube solar collectors are the best choice in today's market, and Silicon Solar sells the highest quality SunMaxx tubes in the industry. Vacuum tubes are the component of a solar thermal system which allows it to convert the energy of the sun into heat.Therefore, the better vacuum tubes you have in your system, the more efficient your system will be. SunMaxx tubes are the best collectors in the industry. They are currently being used all around the world, in places such as the United States, Germany, Canada, and China. What sets the SunMaxx tubes apart from the competition is their design. They use two layers of glass in the tubes to increase strength and prevent heat losses to the environment, making for a longer-lasting, more efficient tube. These vacuum tubes consist of two glass tubes made from extremely strong borosilicate glass. The outer tube is transparent, which allows light rays to pass through with minimal reflection. The inner tube is coated with a special selective coating (Al-N/Al) which features excellent solar radiation absorption when compared to conventional flat plate collector systems. The top of the two tubes are fused together and the air contained in the space between the two layers of glass is pumped out while exposing the tube to high temperatures. This "evacuation" of the gasses forms a vacuum and is the essential factor in the performance of the evacuated tubes.
Features:
Unique two-layer glass tubes increase strength and prevent heat loss
Freight shipping  is  available anywhere in the continental USA

This item ships via freight services to any location in the continental United States. Please contact a sales representative for a shipping estimate.
Specifications:|
Length: 70
Outer tube diameter: 2.2
Inner tube diameter: 2.1
Glass thickness: 0.1
Thermal Expansion: 3.3×10-6 OC
Material: Bobsilicate Glass 3.3 & Graded AL-N/AL
Absorption: >92% (AM 1.5)
92% (am 1.5) >
<8% (80 oc) >
<5×10-3 pa >
Stagnation Temperature: >220 Degrees C
220 degrees c >
< .7 w(m20c) >
Maximum Strength: 1.0 MPA
Compatible with most 1800 Max 58 mm evacuated tube systems
Need Assistance?
If you have questions need help or simply feel uncomfortable placing your order online feel free to contact the product representative at 1-800-786-0329.


Additional information
| | |
| --- | --- |
| Weight | 14.00 lbs |
| Dimensions | 78.00 × 9.00 in |
ABOUT US
Since 1999 we've helped thousands of customers with their renewable energy projects. From science projects to solar powered container tracking systems, our team is here with 20 years of experience to help you with your project. If you're ever in the area, we invite you to stop by.
Learn more about our history here
.
Solar DIY Project & Idea Guides from our Customers
Find the most recent DIY project and idea guides for your next solar project.
Electroluminescence (EL) Solar Cell & Panel TestingDid you know that EL testing and prevent your solar cell or solar panels... read more