Solar PV Power Output – Solar Energy Lab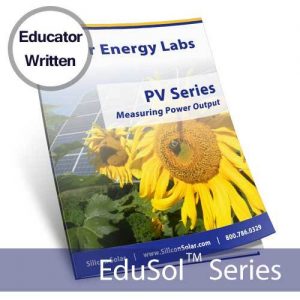 Questions? Just give us a call at 1-800-786-0329 9AM-5PM EST.
Description
Solar PV Power Output – Solar Energy Lab
Silicon Solar's Solar Energy Labs are a great resource for teachers to utilize while teaching their students about solar energy.  With labs that focus on both solar thermal and solar electric power, you will be able to give your students a great hands on experience with solar energy.
PROBLEM: Can you determine the amount of current flowing through, and power output of a PV panel over time? Can you determine how large of a PV system should you have to supply all the energy needs for a typical house?
MATERIALS: Solar PV panel with alligator clip attachment, 12 volt lawn mower battery, ammeter or multimeter, stopwatch (Materials Not Included, we recommend the products below)
INTRODUCTION: Each solar PV panel produced has certain specifications related to its power output and current flow. Your solar PV panel is rated at 2.4 Watts of power at 200 milliamperes (.200 amperes) of current. In this lab you will measure the current
flow of this panel over a 20 minute period. You will also calculate its power output and energy production over time. You will eventually calculate how large of a PV array (PV panels wired together in series) you would need to completely supply your energy needs for a typical residence.
ABOUT US
Since 1999 we've helped thousands of customers with their renewable energy projects. From science projects to solar powered container tracking systems, our team is here with 20 years of experience to help you with your project. If you're ever in the area, we invite you to stop by.
Learn more about our history here
.
Solar DIY Project & Idea Guides from our Customers
Find the most recent DIY project and idea guides for your next solar project.
Electroluminescence (EL) Solar Cell & Panel TestingDid you know that EL testing and prevent your solar cell or solar panels... read more