Solar Educational Demo Kit (Solar energy for Kids)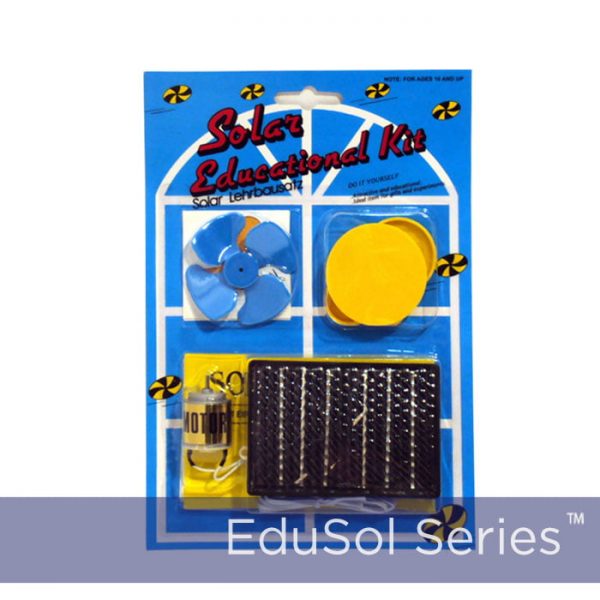 Questions? Just give us a call at 1-800-786-0329 9AM-5PM EST.
Description
Additional information
Reviews (6)
Description
Solar Educational Demo Kit (Solar energy for Kids)
The EduSol Demo Kit is our best selling educational solar kit. This kit is ideal for classroom children's group or home use and  can be used in any setting where you want to teach the basics of solar energy in a fun engaging and informative way. It is a perfect kit on educating solar energy for kids. The Demo Kit is recommended for children ages 5-12 but can be utilized by older students as well.
The solar cell powers a low voltage solar motor which allows  students to watch solar power at work using solid and colored spinner  discs propellers and paper airplane and bird models.
The EduSol Demo Kit is an educational tool which will both fascinate and teach solar energy in a hands-on way. We also have more fun Solar Educational Kits. All Silicon Solar Educational Kits are design for educate the next generation by using solar energy for kids.
Features:
Low Voltage Solar Motor
Solar Cell Module
Wire with Motor Clips
Paper Airplane & Bird Models
Colored Spinner Discs
1 Plastic Propeller
4 Plastic Disc Set with Color Wheels
Screws & Nuts
Easy to Assemble
Solar Energy Information Guide
Recommended for Ages 5-12
Solar Energy for Kids

Related Products:
NOTE: THE EDUSOL SOLAR EDUCATIONAL KIT IS THE OFFICIAL SOLAR EDUCATIONAL DEMO KIT FOR THE STATE OF ARIZONA.
ABOUT US
Since 1999 we've helped thousands of customers with their renewable energy projects. From science projects to solar powered container tracking systems, our team is here with 20 years of experience to help you with your project. If you're ever in the area, we invite you to stop by.
Learn more about our history here
.
Solar DIY Project & Idea Guides from our Customers
Find the most recent DIY project and idea guides for your next solar project.
Electroluminescence (EL) Solar Cell & Panel TestingDid you know that EL testing and prevent your solar cell or solar panels... read more