Scrap Solar Cells 1 lb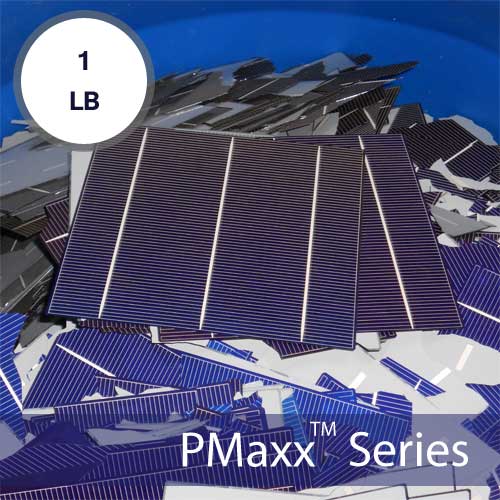 Looking to build your own solar panels? Silicon Solar offers a selection of educational solar cell kits and accessories needed to build your own solar panels. Buy cracked solar cells at a lower cost or purchase new solar cells when you're ready for the next test. This item is sold by the pound (lb).
Questions? Just give us a call at 1-800-786-0329 9AM-5PM EST.
Description
Additional information
Reviews (0)
Description
Solar Cells by the Pound
Need smaller sections of solar cells? We offer broken / chipped (the sizes of the solar cells are broken / chipped), however the solar cells are perfectly ok to use. More details below on the accessories and how many watts per lb.
Don't forget the accessories you'll need
Be sure to check out our soldering iron and accessories perfect for building your solar panel project.
Soldering Iron – make sure you have a good quality soldering iron when soldering solar cells.

Flux Pen – Is essential when building a solar panel. Not all flux pens are created equal. Make sure the flux will not react with your solar cells after 1-2 years (80% of flux on market will destroy solar cell)

Tabbing – You'll need 2mm and 5mm tabbing. The 2mm is for interconnecting between the solar cells, and 5mm between your "strings" of solar cells.
Plan a little before building your solar panels.
How many watts do you need? 

What voltage do you need?
Where will the solar panel go? 

How will you encapsulate it? 
1lb of our scrap solar cells is approximately 100-120 Watts of solar cells! That's less than $0.15 per watt!
A full 1 lb bag of our scrap broken solar cells.  Our scrap broken solar cells are the perfect way to introduce yourself, your children, or students to the world of solar cells and solar power.  All of our scrap broken solar cells are completely functional but were just left over scrap from the manufacturing process.
Our scrap broken solar cells consist of both mono-crystalline and poly-crystalline cells – which means you can decide which type of solar cells are the right choice for you.
Features:
Excellent for soldering experience
Excellent for testing purposes
Completely functional
1lb of our scrap solar cells is approximately 100 Watts of solar cells!

Specifications:
Monocrystalline and polycrystalline cells (percentages not guaranteed)
Sizes not guaranteed
Additional information
| | |
| --- | --- |
| Weight | 1 lbs |
| Dimensions | 10 × 10 × 10 in |
ABOUT US
Since 1999 we've helped thousands of customers with their renewable energy projects. From science projects to solar powered container tracking systems, our team is here with 20 years of experience to help you with your project. If you're ever in the area, we invite you to stop by.
Learn more about our history here
.
Solar DIY Project & Idea Guides from our Customers
Find the most recent DIY project and idea guides for your next solar project.
Electroluminescence (EL) Solar Cell & Panel TestingDid you know that EL testing and prevent your solar cell or solar panels... read more