TruPower Portable Solar Power System 500W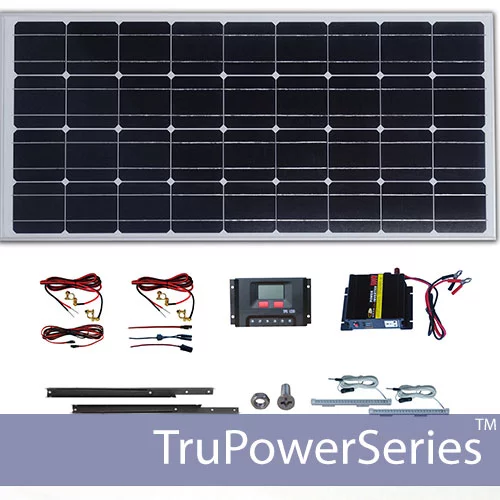 Questions? Just give us a call at 1-800-786-0329 9AM-5PM EST.
Description
Additional information
Reviews (0)
Description
TruPower Portable Solar Power System 500W
The TruPower Portable 500W Solar System is an easy to use and install off grid solar kit that can be used as a back up power source during the occasional power outage or as the sole power source for your remote location where an electrical supply is too costly or difficult to access.
Complete your TruPower Portable System with a 12V lead-acid battery that will meet your power storage requirements (battery must be purchased separately) and the small but highly efficient 90W Mono-crystalline Solar Panel will have the sun powering your computer DVD TV satellite receiver or other household items in no time.
Components of the 500W System include a 90-100W Mono-crystalline Solar Panel Mounting Assembly (wall roof or ground) with hardware two 24LED Strips 500W Inverter 12V30A Charge Controller and all necessary connective wires.
Need more power?   The TruPower 500W Portable Solar System can be expanded using our TruPower Portable Extender and TruPower Expansion Kit .
Features:
Great for Home or Business Emergency Readiness During Power Outages
Can be Used as Sole Power Source for Remote Areas
Will Power Most Household Items – Such As Computers TV's and Satellite Receivers
Secure Panel Mounting for Either Roof Ground or Wall•
Plug-n-Power Easy Installation
Includes two 24LED Lighting Strips
Digital LCD Display for Easy Monitoring
Water Tight Plug Connections For All Components
What Can It Power? (Run-Time may vary depending on size of battery purchased)
| Appliance | Wattage (W) | Run Time in Hours |
| --- | --- | --- |
| Cell Phone | 15 | 24.0 |
| Desktop PC | 300 | 1.2 |
| Laptop | 120 | 3.0 |
| LCD TV | 150 | 2.4 |
| Radio and Cassette Player | 30 | 12.0 |
| Fan | 60 | 6.0 |
| Incandescent Light (40W) | 40 | 9.0 |
| LED Light (40W) | 5 | 72.0 |
| Straight Fluorescent Light(40W) | 40 | 9.0 |
| Straight LED Fluorescent Light(40W) | 20 | 18.0 |
| Fluorescent Desk Lamp | 24 | 15.0 |
Accessories:
Solar Panel (For More Power)
Solar Extender (To plug in more than one panel)
TruPower-Portable-Extender
Solar Charge Controllers (If use more than 2 90W panels)
TruPower-CContr-12V7A
TruPower-CContr-12V30A
Solar Batteries (Recommended on average usage for 500W system)
Need Assistance?
If you have questions need help or simply feel uncomfortable placing your order online feel free to contact the product representative at 1-800-786-0329.
Additional information
| | |
| --- | --- |
| Weight | 209 lbs |
| Dimensions | 242 × 37.00 in |
ABOUT US
Since 1999 we've helped thousands of customers with their renewable energy projects. From science projects to solar powered container tracking systems, our team is here with 20 years of experience to help you with your project. If you're ever in the area, we invite you to stop by.
Learn more about our history here
.
Solar DIY Project & Idea Guides from our Customers
Find the most recent DIY project and idea guides for your next solar project.
Electroluminescence (EL) Solar Cell & Panel TestingDid you know that EL testing and prevent your solar cell or solar panels... read more