Solar Sign Lights
For Signs, Billboards, Brochure Boxes & Real Estate Signs
Take care of all of your sign lighting needs (no matter how big or small) and save money with no electric costs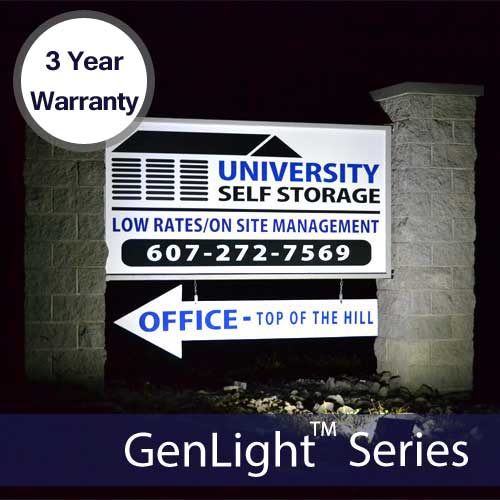 Solar Street / Parking Lot Lights
For Municipal, Commercial & Military
Ensure safety on all your parking lots and road ways without breaking the bank on monthly electric charges
BILLBOARDS LIGHTING
FOR BILLBOARDS & LARGE OUTDOOR ADVERTISING SIGNS
High-efficiency lighting and easy-to-install solar lighting for billboards and large signs of all sizes
Why Should You Choose EnviroLight Solar Billboard Lights For Your Next Billboard Lighting Project? Here Are Just A Few Reasons:
Best value of all solar billboard lighting options
Industry-leading warranties on all EnviroLight systems
Unmatched technical support & service
Certified & UL/cUL Listed components & designs
Get Additional Information
Commercial Solar Lighting Information Guide
How to get the right commercial solar lighting for your needs & budget
Commercial solar sign lighting is one of the most cost-effective investments that your business can make today. Traditional sign lighting systems can be expensive...to purchase, install, operate and maintain. Commercial solar sign lighting easily slashes your expenses in all these.
Typically, solar sign lighting systems are less expensive to purchase than large electrical sign lighting systems, which often require a lot of specialized equipment for electrical connections and installation, which can significantly drive up your overhead investment.
When you look at installation, traditional sign lighting systems often require long runs of electrical wire (from a power source to the light fixture), which often need to be buried (trenched) and re-landscaped over. Additionally, traditional sign lights with incandescant light bulbs require constant, and often expensive, maitenance throughout their lifetime, as well as the monthly costs of electric to run the light every night.
However, a commercial solar sign lighting system reduces, and in some cases, eliminates these costs. For instance, since there are no long wires to run the from the light fixture to a fixed position power source, there is no need for expensive trenching and re-landscaping buried wire when installing a solar sign light. Additionall, there are no monthly operation costs...at all.
Your new commercial solar sign lighting system operates completely free, using only the power of the sun to provide powerful lighting each and every night, for as many hours as you need.
There are several different types of solar sign lighting systems that you may be interested in depending on your specific sign lighting needs and application.