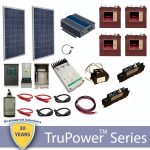 TruPower AC Off Grid Cabin Kit 240W – Moderate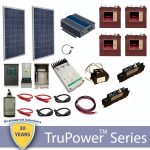 TruPower AC Off Grid Cabin Kit 240W – Moderate
$7,226.25
$7,226.25
Description
Additional information
Reviews (0)
Description
TruPower AC Off Grid Cabin Kit 240W – Moderate
Silicon Solar provide the most efficient solar kit tailored for your specific need. Our Off Grid Cabin Kits are designed to efficiently take your cabins off the grid according to the insolation value, the amount of solar radiation energy received on a surface at a given time, in your area. To find out the insolation value in your area, refer to the table with information about the different insolation levels below. Silicon Solar also provide the most energy efficient off grid cabin kits for areas with moderate insolation values.
The TruPower AC Off Grid Cabin Kit 240W – Moderate features 2 x 120W solar panels, 2 X 135AH batteries, and is tailored to efficiently produce power at areas with a moderate amount of sunlight. This kit can provide grid independent energy supply for your cabin.
The system does not connect to the grid (or wall outlet); therefore, it can become your primary source of electricity which in turn saves you money from avoiding grid usage. Off-Grid Cabin Kit is perfect if you want to go green and utilize renewable energy that will ultimately reduce the cost of your electricity bill.
Off grid solar kits are easy to install, usually within a day, but Silicon Solar recommend the presence of an electrician or solar installer or at least have them verify that all installations are correct before power configuration.
This kit include all the major components needed for a solar installation. Because each installation is different, some parts may need separate purchases to satisfy your specific project needs.
30 YEAR POWER GUARANTEE
Silicon Solar provide a 30 year power guarantee on the TruPower solar panels. We offer the longest power guarantee on the solar panel in the industry to assured our TruPower solar panels generation of energy, and also to assured you get the right return based on your investment.Silicon Solar TruPower Solar panel 30 years power guarantee provide a reliability which is beyond compare.
10 YEAR PRODUCT WARRANTY
Silicon solar also offer a 10 year component warranty on the TruPower Series Components. By using Silicon Solar as your innovative solar solution, you can benefits from our warranty!
Please contact us or call us for more information about warranty at 1.800.786.0329.
Components:
| | |
| --- | --- |
| Items | Qty |
| 120W Solar Panel | 2 |
| 600W Pure Sine Wave inverter (Off-Grid) | 1 |
| 12V 135AH Battery | 2 |
| 12/24/48V Solar Charge Controller | 1 |
| Disconnect/Combiner Box | 1 |
| 80A 300VDC Ground Fault Protector | 1 |
| 300V Surge Capacitor | 1 |
| 9A 150V DC Breaker | 2 |
| 8" Battery to Battery Interconnects (Black) | 1 |
| 8" Battery to Battery Interconnects (Red) | 1 |
| 60" Battery to Inverter Interconnects | 1 |
| Solar Panel Interconnecting Wires | 5 |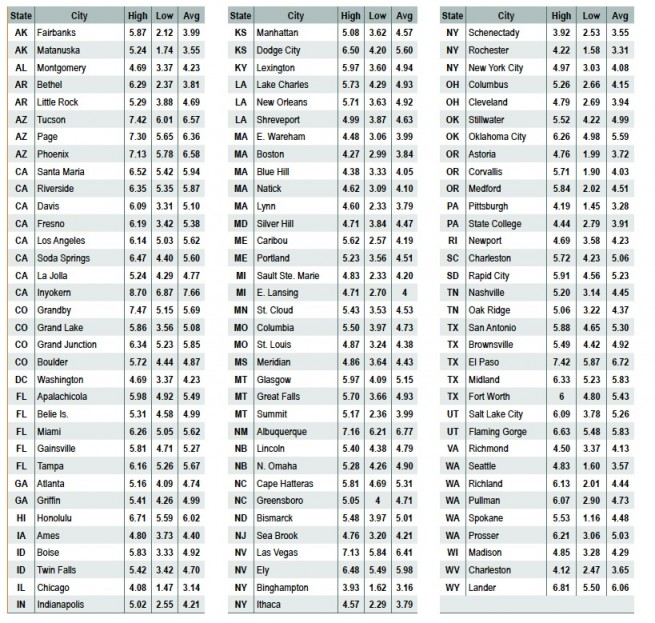 | Types of Kit | Insolation level |
| --- | --- |
| Cloudy | 1-3.5 |
| Moderate | 3.5-5.2 |
| Sunny | 5.2 or above |
AVAILABLE CABIN SOLAR KITS
| SKU / Model | DC / AC Type | PV Array Size | Energy Provided | More Details |
| --- | --- | --- | --- | --- |
| TruPower-AC-Cabin-120W-Sunny |             AC |         120 Watts | 500 Watt-Hours per day, for 2 days | More Details & Order |
| TruPower-AC-Cabin-240W-Sunny |             AC |         240 Watts | 500 Watt-Hours per day, for 2 days | More Details & Order |
| TruPower-AC-Cabin-300W-Sunny |             AC |         300 Watts | 500 Watt-Hours per day, for 2 days | More Details & Order |
| Trupower-AC-Cabin-240W-Moderate |             AC |         240 Watts | 750 Watt-Hours per day, for 2 days | More Details & Order |
| Trupower-AC-Cabin-400W-Moderate |             AC |         400 Watts | 750 Watt-Hours per day, for 2 days | More Details & Order |
| Trupower-AC-Cabin-500W-Moderate |             AC |         500 Watts | 750 Watt-Hours per day, for 2 days | More Details & Order |
| Trupower-AC-Cabin-500W-Cloudy |             AC |         500 Watts | 1000 Watt-Hours per day, for 2 days | More Details & Order |
| Trupower-AC-Cabin-600W-Cloudy |             AC |         600 Watts | 1000 Watt-Hours per day, for 2 days | More Details & Order |
| Trupower-AC-Cabin-800W-Cloudy |             AC |         800 Watts | 1000 Watt-Hours per day, for 2 days | More Details & Order |
Need Assistance?
If you have questions need help or simply feel uncomfortable placing your order online feel free to contact the product representative at 1.800.786.0329
Additional information
| | |
| --- | --- |
| Weight | 209 lbs |
| Dimensions | 242 in |