Four AA or AAA Solar Battery Charger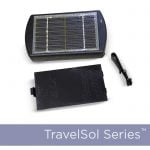 Our solar battery charger is a simple way to keep your Ni-MH or Ni-CAD batteries charged. Compatible with all sizes (AAA,AA). Each solar battery charger can charge (4pcs) of either AA or AAA batteries.
Questions? Just give us a call at 1-800-786-0329 9AM-5PM EST.
Description
Additional information
Description
Quad Travel Charger Plus
AA and AAA Solar Battery Charger: With this Solar Battery Charger you can ensure that your AA or AAA rechargeable batteries are always charged and ready to go when you need them even when you are far from electrical outlets. This charger is designed to charge 4 batteries at once and it features an adjustable belt slip which can be adjusted to allow the solar panel to receive as much sunlight as possible. The AA and AAA Solar Battery Charger is a must-have for campers and hikers who want to be able to take their electronic devices along with them.
NOTE: Batteries are not included. Also with this charger, you must charge four batteries at once and they must all be the same size and brand.
ABOUT US
Since 1999 we've helped thousands of customers with their renewable energy projects. From science projects to solar powered container tracking systems, our team is here with 20 years of experience to help you with your project. If you're ever in the area, we invite you to stop by.
Learn more about our history here
.
Solar DIY Project & Idea Guides from our Customers
Find the most recent DIY project and idea guides for your next solar project.
Electroluminescence (EL) Solar Cell & Panel TestingDid you know that EL testing and prevent your solar cell or solar panels... read more