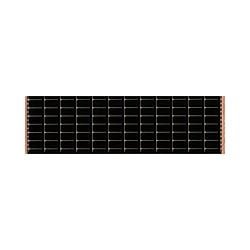 7.2V 0.72W 100mA Flexible Solar Panel
7.2V 0.72W 100mA Flexible Solar Panel
$63.80
$63.80
Description
Additional information
Reviews (0)
Description
SolMaxx Flex 7.2V 100mA Pretab:
Utilizing the latest technology in flexible solar cell technology we offer a new solution to your battery charging needs. No longer do you require a flat surface for mounting your solar panel. Silicon Solar is proud to offer 100% flexible solar panels which are capable of withstanding the most rigorous environments.
These panels do not come with Blocking Diodes. If you are using this panel to charge batteries, you will need to attach a blocking (reverse) diode or disconnect the panel when sunlight is not hitting the panel.
Specifications:
Output: Amperage: 100 mA at 7.2V
Dimensions: 10.6 x 3.9
Weight: 1.1 oz
Warranty: 3 years
Features:
Encapsulation: tefzel/eva
Connection: Solder tabs
Product FAQ:
Q: What is the ideal temperature range for this solar panel to be used in?
A: The modules are guaranteed to perform in normal atmospheric conditions. The optimal surface temperature is usually 25-50 degrees Celsius. As with all solar modules voltage output drops with increasing temperature.
Q: What is the base technology of these solar panels?
A: Thin film amorphous silicon photovoltaic technology.
Need Assistance?
Note: Custom sizing of flexible panels is available. If you need a custom size, please contact our sales reps for assistance at the number below.
For a complete list of available sizes and power ratings, please contact our sales department.
If you have questions, need help, or simply feel uncomfortable placing your order online, feel free to contact the product representative at 1-800-786-0329.
Additional information
| | |
| --- | --- |
| Weight | 209 lbs |
| Dimensions | 242 × 0.03 in |