Side of Pole Solar Panel Mounting System by Silicon Solar for 26IN Solar Panel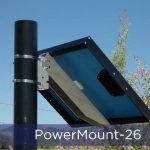 Questions? Just give us a call at 1-800-786-0329 9AM-5PM EST.
Description
Additional information
Description
The side arm pole mount is made out of stainless steel right here in our upstate New York facility. It's designed to be attached to a standard post, the standard size includes pipe clamps (see photo). If you need to connect to a larger diameter pipe, you can replace with any size pipe clamp from your local hardware store. The clamping plates clamp on the backside of the panels frame (see the photo). For thin frames panels, you can also clamp on the top side of the solar panel.
Sizing:
– Determine the width of your solar panel. Is the width between 15″ – 26″
– Pole diameters of between 2.0 inches to 4.5 inches. (if larger, you can just replace the pipe clamps with larger diameter clamps)
Our unique module clamp and slot combination eliminates the need for bolt holes in the panel and allows use for a wider selection of solar panels.
ABOUT US
Since 1999 we've helped thousands of customers with their renewable energy projects. From science projects to solar powered container tracking systems, our team is here with 20 years of experience to help you with your project. If you're ever in the area, we invite you to stop by.
Learn more about our history here
.
Solar DIY Project & Idea Guides from our Customers
Find the most recent DIY project and idea guides for your next solar project.
Electroluminescence (EL) Solar Cell & Panel TestingDid you know that EL testing and prevent your solar cell or solar panels... read more