80 Gallon Pressurized Electric Backup With 2 Heat Exchangers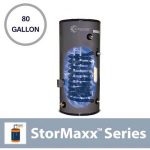 Questions? Just give us a call at 1-800-786-0329 9AM-5PM EST.
Description
Additional information
Description
80 gallon StorMaxx SE with 2 heat exchangers and electric element
SunMaxx StorMaxx SE Solar Tank water heaters, offer a cost-effective water heating alternative. These tanks include a back-up electric element, which allows for the versatility of a stand alone solar water heater, or pipe it in as a pre-heat solar system.
The StorMaxx SE is a durable porcelain enamel, glass-lined tank. Highly resistant to aggressive water. Not susceptible to damage due to the presence of chloride in the water. Built to last-inner tank is hand-crafted from heavy gauge steel. Longer life equals to higher return on investment. Outer jacket made from steel and powder coated for a lasting, durable finish.
Features
4500W Electric back-up Element-UL listed
Factory installed temperature and pressure valve-CSA listed
Factory installed brass drain valve-accessible, tamper-proof
2″ Non-CFC foam insulation-decreases standby heat loss
1-1/2″ coil diameter-larger diameter, results in higher recovery and less pressure drop through the coil, smooth surface on coil resists lime build up
Sediment reduction inlet-available on the SE-80 and SE-119. Reduces sediment buildup on the tank bottom, increasing operating efficiencies and tank life
Two magnesium anode rods-inhibit corrosion and maximize tank life. Electrolysis attacks the anode rods, not the tank
Factory installed dielectric nipples on boiler connections-provides greater insulating protection
Warranty
7 years limited on tank and coil heat exchanger
3 years limited on tank and coil heat exchanger in all commercial installations
Additional information
| | |
| --- | --- |
| Weight | 209 lbs |
| Dimensions | 242 in |
ABOUT US
Since 1999 we've helped thousands of customers with their renewable energy projects. From science projects to solar powered container tracking systems, our team is here with 20 years of experience to help you with your project. If you're ever in the area, we invite you to stop by.
Learn more about our history here
.
Solar DIY Project & Idea Guides from our Customers
Find the most recent DIY project and idea guides for your next solar project.
Electroluminescence (EL) Solar Cell & Panel TestingDid you know that EL testing and prevent your solar cell or solar panels... read more