Solar Sign Lights
Allan P
The Industry's Most Complete, Trusted & Reliable Line Of Solar Sign Lights
We have a number of solar sign lights – with models carefully designed to meet the needs of nearly every sign lighting application and budget.
Considerations When Selecting Your Solar Sign Light
What size sign / area are you trying to illuminate?: Our solar sign lights are rated to provide you with an approximate area they will illuminate.
What color light do you want (white, amber, colored?): All lights have a specific color spectrum, be sure to select the right one for your project
Do you have a location to install the solar panel? Depending on your location we offer different lighting solutions with solar panels which can be mounted with the lighting fixture or remotely positioned.
Call and speak with one of our technicians! We have sold over 10,000 units of solar sign lights. Let our experts help determine which light is suitable for your application.
Trader Joe's Sign Lighting
A Customized EnviroLight Solar Sign Lighting System Used To Light The Trader Joes In Huntington Beach, CA.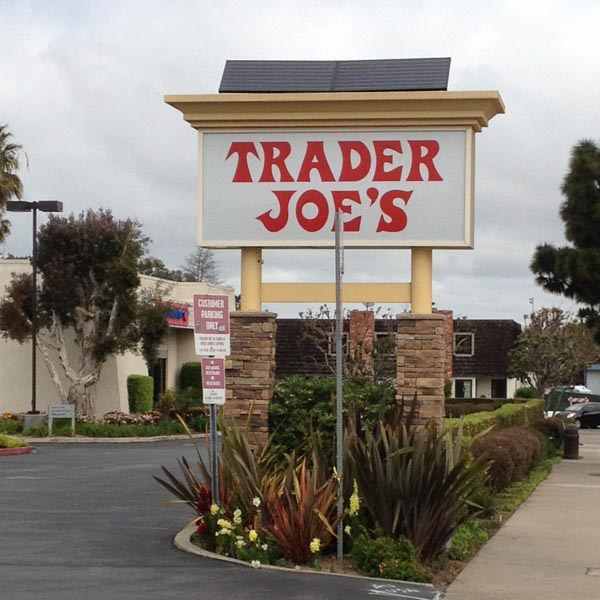 The Trader Joe's at the Huntington Harbour Mall in Huntington, CA needed a new sign lighting system after a major power failure. After looking for a traditional electrical solution (finding price tags between $13,000 – $14,000), D.D. Dunlap Companies, the owner of the property, settled on a solar sign lighting system from Silicon Solar.
With a total price tag (including installation) of under $ 4,500, the new solar lighting system consists of a modified EnviroLight 2X solar sign lighting system and genX LED strip lights.
Because of their green image, Trader Joe's is extremely with the choice to go with a solar sign lighting solution.
Financial Details
Solar Materials Cost
$ 3610
Installation Cost
$ 500
Total Project Cost
$ 4110
Federal Incentives
$ 0
State / Local Incentives
$ 0
Calculated Payback
2 Years
Town Of Sidney Solar Sign Lighting
A GenLight 108LED Used To Light The Entrance Sign To Silicon Solar Birthplace, Sidney, NY.
The town of Sidney, NY is the birthplace of Silicon Solar. Therefore, Silicon Solar founders Adam Farrell and Matt Farrell have donated a third generation GenLight 108LED solar sign light to the town for their town entrance sign. The entrance sign previously had a traditional electric lighting system installed, which costs the town roughly $217.56 a year in electric use charges. Now with the new GenLight 108 LED on their entrance sign they will save $2175.60 in electric costs (this is a net return of $1456.63 after the cost of the GenLight).
Financial Details
Solar Materials Cost
$ 719
Total Project Cost
$ 4110
Federal Incentives
$ 0
State / Local Incentives
$ 0
Est. 1 Year Savings
$ 218
Est. 5 Year Savings
$ 1090
Calculated Payback
3.3 Years