Solar Landscape Lighting with Bluetooth Sound System from Silicon Solar is breaking the traditional boundary of landscape lighting!
FOR IMMEDIATE RELEASE | August 23, 2013
Solar Landscape Lighting with Bluetooth Sound System from Silicon Solar is breaking the traditional boundary of landscape lighting!
Solar lights took another step closer in becoming the future of landscape lighting systems. Recent developments include improvement in utility and added leisure aspects with artistic input. Until recently, most solar lights are only able to emit a dim light. That has changed with Silicon Solar's Solscape Lighting Kits. This kit replaced more conventional bulbs with super bright LED lights. This is made possible with the latest PV solar panel that is able to convert sunlight into energy more efficiently which is included in this kit. The Solscape Lighting Kit is the only landscape lighting system in the market equipped with Bluetooth Speakers, which turns traditional lighting systems into a decorative leisure that allows you to enjoy music outdoor by connecting to your smartphones or music playing devices.
The SolScape 1X kit is equipped with a 'Grade A' quality high purity silicon celled 100W Solar Panel, four weather-rated speakers, AGM battery bank, and all the necessary cables, mounting hardware and parts for assemblance. The lighting system can operate even without sunlight due to the equipped battery bank storing generated electricity for usage during sunless times. Installation is fast and easy, usually self-installation only requires 30 minutes. This makes our solar landscape lighting kit to be unique and durable.
Silcon Solar 's Solscape Solar landscape lighting kit not only illuminate your property for safety, but can serve as beautiful decorations for your gardens, pools, front lawn, etc; and saves you operating costs. The only cost incurred from the system is the initial price. Maintenance is not required and the system is exceptionally durable. The light is completely solar powered that will save on your energy bill. Adam Farrell, CEO of Silicon Solar, commented, " the fact that this is the only solar landscape lighting system with Bluetooth speakers is very intriguing. This system is definitely at the frontier of solar powered utilities."
If you are interested in adding cool features and characteristics to your garden and landscape, the Solscape Solar Landscape Lighting Kit is definitely the best thing you can get from the market! Visit http://www.siliconsolar.com/solscape-1x-solar-landscape-lighting-kit.html to learn more about the Solscape 1X Landscape Lighting Kit.
Or learn more about outdoor and garden landscape lighting from http://www.siliconsolar.com/solar-landscape-lighting-kits.html.
Call 1.800.786.0329 to speak with our representative.
Products Featured In This Video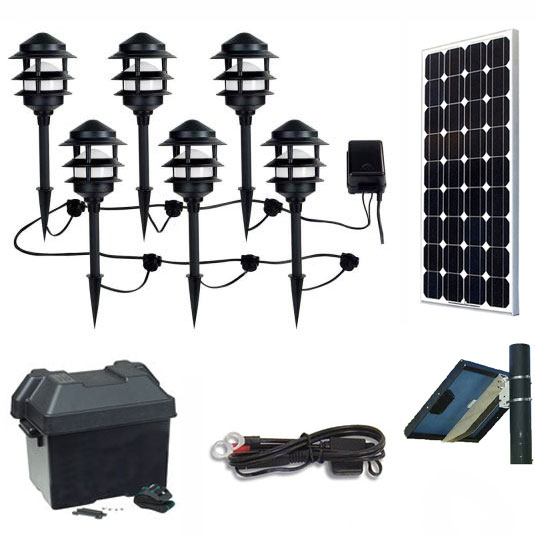 SolScape 1X Solar Landscape Lighting Kit Silicon Solar's SolScape series of solar landscape lights are the best solar landscape lights on the market. Silicon Solar provides the best quality landscape lighting kit. The Solscape 1X kit contains not only bright, high-quality path lights but also integrated Bluetooth wireless music streaming capability. The SolScape 1X kit […]
Press Contact Information:
Fill Out Our Quick-Contact Form
[contact-form-7 title="Contact form 1"]
Or, Contact Silicon Solar Today
Silicon Solar
2917 State Hwy 7
Bainbridge, NY 13733
P: 1.800.786.0329
E: Use form, select "Press Inquiry"
www.SiliconSolar.com
For Additional Information, Please See Our Reference Projects & Featured Installations:
Why Shop With Us
Silicon Solar is, and always will be, a family owned and operated solar company dedicated to providing the highest quality solar powered products which have completed our rigorous quality inspection. We also manufacture a full line of solar powered products right here in our production facility; enabling us offer faster delivery and priority technical support.
Search our online catalog for hundreds of solar lights, solar fountains and many other products, including solar cells and solar panels. We also manufacture custom solar kits upon request for professors and educational programs.
Call us today for your solar request, 1.800.786.0329