ThermoPower Evacuated Tube Collectors
Evacuated Tube Solar Collectors are extremely efficient and cost-effective particularly in colder climates where other Solar Collectors suffer from limited performance and other problems due to their lack of freeze protection. Evacuated Tube Collectors unlike others are extremely freeze protected leading to efficiencies of over 70% even in freezing temperatures. The unique design and collection properties of these collectors make them exceedingly efficient even in low-light conditions which is another definite advantage during winter.
Features & Benefits Of Our Evacuated Tubes
SRCC OG-100 Certified For Guaranteed Performance
SRCC testing and certification gives you the confidence that your ThermoPower evacuated tube solar collectors will deliver the performance and value that we say. You always know how much return you will get for your investment
Residential Domestic Hot Water & Radiant Systems
ThermoPower evacuated tube solar collectors are great for a variety of residential solar applications including traditional hot water systems, radiant/space heating and pool/spa heating
Commercial & Municipal Solar Heating Systems
ThermoPower evacuated tube solar collectors are in use in commercial, municipal, educational and military solar hot water and heating systems in all sizes and designs across the United States and around the world
Do You Need An Evacuated Tube?
If you need assistance finding the right evacuated tube collector for your needs and budgets, please contact one of our solar hot water specialists to assist you.
Call Us Today: 1.800.786.0329 or
How Evacuated Tube Collectors Work
SunMaxx 30 Evacuated Tube Solar Collectors are designed to efficiently provide hot water for a number of applications in climates and locations across the United States and around the world. SunMaxx customers use the SunMaxx 30 for domestic hot water radiant heating and pool/hot tub heating every day at residential commercial industrial and municipal locations. A SunMaxx 30 provides 58000 BTUs of heating capacity a day under optimum conditions.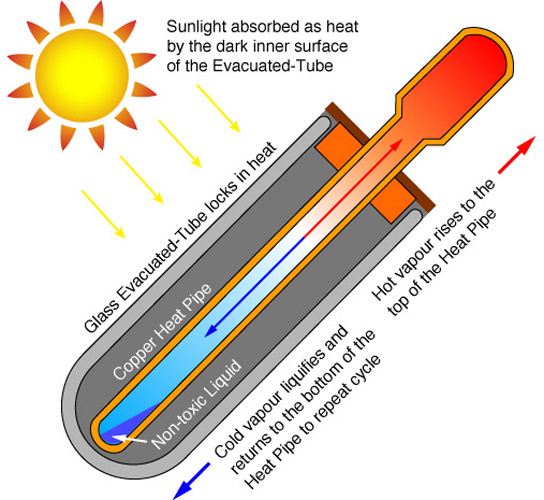 How To Assemble & Install
Assembly of a SunMaxx Evacuated Tube Solar Collector takes roughly 1.5 hours. Assembly requires only a basic understanding of building pre-packaged hardware kits and can be accomplished with only a few common household tools.
Installing a Solar Hot Water System based on SunMaxx Evacuated Tube Solar Collectors requires basic knowledge and experience in plumbing systems and can be accomplished by customers with a working knowledge of:
Sweating copper pipes or pex piping
Reading pumping schematics
Wiring 120v electric or 12v DC electric pumps
Determining if roof is capable of supporting additional weight of collectors (typically not a problem)
Looking For A Complete Kit Instead?
Why SRCC OG-100 Certification Matters & How ThermoPower Evacuated Tube Collectors Perform
Our evacuated tube solar collectors are independently tested and certified by the SRCC with OG-100 Certification.
Independently verified performance data
Unbiased comparisons to other leading evacuated tube collectors
Qualfies collectors for 30% federal tax credit
Qualifies collectors for most state incentives, rebates and tax credits
Gives you confidence in your purchase and return-on-investment
Related Documents & Additional Resources