Used Solar Products
Frequently Asked Questions
Check out our great FAQs and Answers for our Used Solar Products below:
test
Category How-To Guides
Check out our great DIY and How-To Guides for our Used Solar Products below:
test
Category Learning Guide
Check out our great Information & Learning Guides for our Used Solar Products below:
No Videos Exist
test
Additional & Related Resources
Check out our great Documents & Additional Resources for our Used Solar Products below: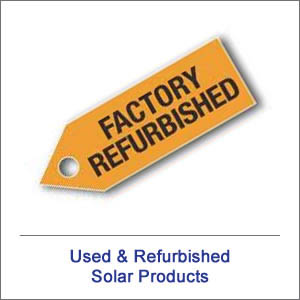 Used Solar Products provided by Silicon Solar are ready in stock when the need arises for replacement components and extra parts for upgrading, repairing, or reusing our solar energy products.
Used solar product range from solar flashlights to used solar panels. We at Silicon Solar don't believe in letting perfectly good silicon wafers or solar lighting systems go to waste just because of a few cosmetic blemishes from shipping or mishandling. We pass our savings to you and make sure that each used product can provide years of function in some area of solar energy uses.
Need Assistance? Ready To Order? Contact Us Today!
Or, Fill Out Our Quick-Contact Form
Contact Silicon Solar Today!
Silicon Solar
2917 State Hwy 7
Bainbridge, NY 13733
P: 1.800.786.0329
www.SiliconSolar.com
Why Shop With Us
Silicon Solar is, and always will be, a family owned and operated solar company dedicated to providing the highest quality solar powered products which have completed our rigorous quality inspection. We also manufacture a full line of solar powered products right here in our production facility; enabling us offer faster delivery and priority technical support.
Search our online catalog for hundreds of solar lights, solar fountains and many other products, including solar cells and solar panels. We also manufacture custom solar kits upon request for professors and educational programs.
Call us today for your solar request, 1.800.786.0329