HelioMaxx Combi Kits
Frequently Asked Questions
Check out our great FAQs and Answers for our HelioMaxx Combi Kits below:
What Is The Benefit Of Installing A HelioMaxx Combi-System?
Through using energy from the sun to heat your home through one of our HelioMaxx systems, you can heat your home for a fraction of your energy costs and expect to save 30-50% on your current utility bills.
What Kind Of System Should I Choose For My Home?
We have a variety of HelioMaxx Combi-systems for homes of 1500, 2000, 2500 and 3000 square feet that you can choose from depending on the size of your home.
Why Don't The Kits Come With Solar Collectors?
Depending on location and climate, it might be more beneficial to use either Evacuated Tube Collectors or Flat Plate Collectors with the kits.  For Northern, colder climates, Evacuated Tube Collectors be more efficient whereas in Southern, warmer climates, the Flat Plate Collectors would be more beneficial.
Category Learning Guide
Check out our great Information & Learning Guides for our HelioMaxx Combi Kits below:
No Videos Exist
How Do Radiant Heating Systems Work?
There are three main ways that the HelioMaxx Combi Kits can be used to provide home heating:

In-Floor Radiant Heating
A series of PEX Tubing Loops are installed under your floorboards.  As hot water from the Combi Kit passes through them, the heat from the water travels through the flooring into the space above, providing heat for your home.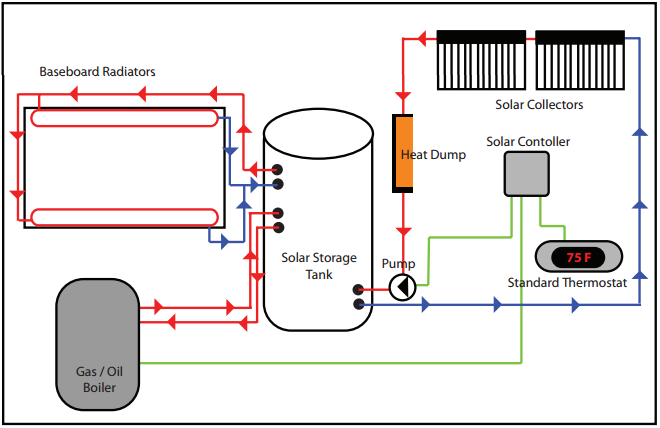 Baseboard Heating
Similar to In-Floor Radiant Heating, but rather than having tubing loops under your floorboards, radiators are installed by your baseboards.

Forced Hot Air Heating
One of the most popular forms of heating where an air-over heat exchanger is linked to a HelioMaxx system to circulate hot air through your home.
HelioMaxx Combi Solar Heating Kits are designed for radiant and space heating applications for homes from 1000 to 3000 or more square feet. Each kit includes all of the major components needed for a complete installation and a cost-effective new solar heating system.
Need Assistance? Ready To Order? Contact Us Today!
Or, Fill Out Our Quick-Contact Form
Contact Silicon Solar Today!
Silicon Solar
2917 State Hwy 7
Bainbridge, NY 13733
P: 1.800.786.0329
www.SiliconSolar.com
Why Shop With Us
Silicon Solar is, and always will be, a family owned and operated solar company dedicated to providing the highest quality solar powered products which have completed our rigorous quality inspection. We also manufacture a full line of solar powered products right here in our production facility; enabling us offer faster delivery and priority technical support.
Search our online catalog for hundreds of solar lights, solar fountains and many other products, including solar cells and solar panels. We also manufacture custom solar kits upon request for professors and educational programs.
Call us today for your solar request, 1.800.786.0329