Featured Cascading Solar Fountains
Dual Cascading Solar Water Fountain
AquaJet SF Dual Cascade Solar Water Fountain Our Dual Cascading Solar Fountain features continuous water flow and a terra-cotta glaze which makes it l...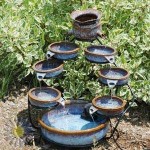 Duo Cascading Solar Water Fountain
 The Duo Cascading Solar Water Fountain is currently not available. Silicon Solar strongly recommend the Red Duo Cascading Solar Water Fountain. Aqua...
Frequently Asked Questions
Check out our great FAQs and Answers for our Cascading Solar Fountains below:
How do I protect my Solar Water Fountains and Solar Operated Yard Figurines?
In order to protect your solar water fountains and solar operated yard figurines you must clean them occasionally.  Also if you live in a cold climate we suggest you bring your fountains and yard figurines inside during the winter months.
My floating solar fountain will not stay in one spot. How can I fix that?
You can attach a tether to the bottom of the fountain and to a heavy waterproof object (like a rock) to keep your fountain in place.
What should I do if my floating solar fountain does not spray anymore?
Check to make sure your fountain's filter is not clogged.  If it isn't you may need to replace the battery in your fountain.
Can I leave my floating solar fountain in water all year round?
If you live in a climate where the temperatures are not able to freeze water, than yes you can leave your fountain in water all year round. If you live in a climate where water can freeze you will want to remove your fountain from the water. If you do not your fountain may become damaged by ice, which is not covered in your warranty.
How would I go about extending the length of cable from my battery to the solar panel for my Aquajet kit so I can place my panel somewhere farther away?
You will need a 14 gauge wire with positive and negative terminals inside, and a basic knowledge of soldering. Wire can easily be spliced anywhere in between the connection from the solar panel to the battery box. Wire should not exceed 50 ft. in length at 14 gauge to minimize the voltage drop to below 3%. If you require the panel to be even farther away than this, the wire gauge should be thicker to compensate for the distance and still minimize voltage drop.
How does a solar fountain work?
A solar fountain  is a great addition to any landscape. A solar fountain does not require an unsightly cord leading to a nearby electrical outlet. Instead, the solar fountain only needs to be placed in an area of direct sunlight to function properly. Solar fountains are considered to be very environmentally friendly and safe. When exposed to sunlight the fountain will power the water pump, even on days with overcast. 
Category How-To Guides
Check out our great DIY and How-To Guides for our Cascading Solar Fountains below:
test
Category Learning Guide
Check out our great Information & Learning Guides for our Cascading Solar Fountains below:
No Videos Exist
test
Additional & Related Resources
Check out our great Documents & Additional Resources for our Cascading Solar Fountains below:
Check out our big selection of Cascading solar fountains – guaranteed to look great in any yard or garden, or on the patio or back deck and give a great atmosphere to your favorite outdoor space.
Need Assistance? Ready To Order? Contact Us Today!
Or, Fill Out Our Quick-Contact Form
Contact Silicon Solar Today!
Silicon Solar
2917 State Hwy 7
Bainbridge, NY 13733
P: 1.800.786.0329
www.SiliconSolar.com
Why Shop With Us
Silicon Solar is, and always will be, a family owned and operated solar company dedicated to providing the highest quality solar powered products which have completed our rigorous quality inspection. We also manufacture a full line of solar powered products right here in our production facility; enabling us offer faster delivery and priority technical support.
Search our online catalog for hundreds of solar lights, solar fountains and many other products, including solar cells and solar panels. We also manufacture custom solar kits upon request for professors and educational programs.
Call us today for your solar request, 1.800.786.0329