Solar Books
Frequently Asked Questions
Check out our great FAQs and Answers for our Solar Books below:
test
Category How-To Guides
Check out our great DIY and How-To Guides for our Solar Books below:
test
Category Learning Guide
Check out our great Information & Learning Guides for our Solar Books below:
No Videos Exist
test
Additional & Related Resources
Check out our great Documents & Additional Resources for our Solar Books below: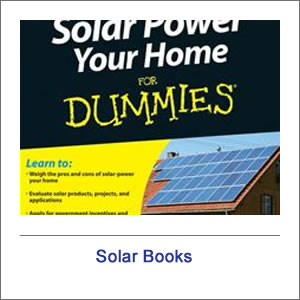 Solar Energy Information Database: We carry an intuitive set of solar energy books including how to power your home using solar energy and the fundamentals of electric vehicles, wind power, solar hot water, build your own solar panel, any several other alternative energy books.
Each solar book provides helpful solar knowledge for explorers of all ages in the new solar era. We include a large variety of books with one or several topics on renewable energy products. Solar books become the next how to "bible" of solar energy systems resulting in making your solar investment the right one for you and your home or office.
Need Assistance? Ready To Order? Contact Us Today!
Or, Fill Out Our Quick-Contact Form
Contact Silicon Solar Today!
Silicon Solar
2917 State Hwy 7
Bainbridge, NY 13733
P: 1.800.786.0329
www.SiliconSolar.com
Why Shop With Us
Silicon Solar is, and always will be, a family owned and operated solar company dedicated to providing the highest quality solar powered products which have completed our rigorous quality inspection. We also manufacture a full line of solar powered products right here in our production facility; enabling us offer faster delivery and priority technical support.
Search our online catalog for hundreds of solar lights, solar fountains and many other products, including solar cells and solar panels. We also manufacture custom solar kits upon request for professors and educational programs.
Call us today for your solar request, 1.800.786.0329