Featured Consumer Electronic Solar Chargers
Works great with my iphone 5 and arrived...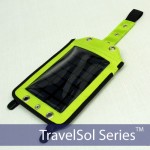 Frequently Asked Questions
Check out our great FAQs and Answers for our Consumer Electronic Solar Chargers below:
Do I need to buy a charge controller for an Automotive or Marine Solar Panel?
No you do not.  The panel has a trickle charger installed into it. This means that the panel can lose some capacity in storage due to self-discharge, but with a trickle charger it will replaces lost amp-hours to your battery.  This will ensure a  quick start and extending battery life.
What is the difference between our Isol 4x and our TravelSol 2x battery chargers?
Our Isol 4x battery charger has a solar panel that is 0.44 watts.  OurTravelSol 2x battery charger has a solar panel that is 2 watts.  Since the TravelSol 2x has a bigger solar panel it will therefore charge your mobile devices faster than the Isol 4x.
How long will it take my Isol 4x to charge my mobile device?
On a sunny day it will take one to two hours for your Isol 4x to charge your mobile phone.  It has a LED 1, LED 2, LED 3, and LED 4 on the device.  When the LED 1 is blue that means there is 10% to 25% of power available.  When the LED 1 and LED 2 is blue that means there is 26% to50% of power available.  When the LED 1, LED 2, and LED 3 is blue that means there is 51% to 75% of power available.  When all 4 LEDs are blue that means there is 76% to 100% power available.
How long will it take my TravelSol 2x to charge my mobile device?
For every hour you charge your mobile device with the TravelSol 2xit will give you 1 to 2 hours of talk time.  The TravelSol 2x comes with 4LED settings, which will show you how much sunlight your panel is receiving.  LED 1 means the product is not charging well.  LED 2 to LED 3 means the product is charging good.  LED 4 means the product is charging super fast.  Most IPhones or Smart Phones will charge between a LED 2 and a LED 4 depending on the weather conditions that day.
Will the TravelSol 2x and Isol 4x charge my Nook?
Yes, the TravelSol 2x and Isol 2x can charge your Nook.  They can also charge cell phones, ipads, kindles, cameras, and other mobile devices.
How many batteries can I charge at a time with the TravelSol Flex Charger?
The TravelSol Flex Charger can charge 2 AA, 2 AAA, 2 C, and 2 D batteries at a time.  You can not charge two different batteries at the same time, such as an A and a C.
Are Solar Trickle Chargers Any Good?
If used correctly, for the right goal, solar trickle chargers work great.  Solar trickle chargers are not designed to fully recharged drained or nearly drained batteries.  A solar trickle charger is designed to maintain the current level of a deep-cycle battery.  In other words, you can have a vehicle sitting for an extended period of time without having the battery go dead from disuse because the solar trickle charger keeps the battery level maintained.
What can I do if there is no sunlight available?
Select models of Solar Battery Chargers, have been created so that you may be able to connect the USB adapter to your laptop or personal computer and have the Solar Battery Charger be charged from there. The battery in the 50 watt solar charging kit may also be charged through an AC wall charger, 12V car adapter, or the 13W solar panel included in the kit.
Where can I use my Consumer Electronic Solar Charger?
Because we have made these chargers built into portable bags, they may be carried anywhere you need them. From the desert to the middle of the ocean, your Solar Charger will work anywhere. This charger is perfect for any emergency or simply for use in your own home.
Category How-To Guides
Check out our great DIY and How-To Guides for our Consumer Electronic Solar Chargers below:
How to Use a Consumer Electronic Solar Charger:
Select the size of the Solar Battery Charger that you need to charge your specific device. 8 watt chargers may be used with USB compatible devices, such as your laptop or mobile phone. 10 watt chargers can also charge USB compatible devices along with your car battery. 50 watt chargers are compatible with USB, 12V, and laptop ports. Now, watch your device recharge its battery!
Category Learning Guide
Check out our great Information & Learning Guides for our Consumer Electronic Solar Chargers below:
No Videos Exist
These Consumer Electronic Solar Chargers are built with monocrystalline solar panels, which are the most efficient form of solar cells. They are unique in that they use a single, very pure crystal of silicon in each cell. Silicon Solar carries several sizes of monocrystalline solar cells with various output capacities. Monocrystalline cells are ideal for any uses that require high efficiency output with limited space.
Solar Panels – Collects solar energy and produces electricity to charge the battery.
Battery – Stores the energy provided by the solar panel.
USB Adapter – Transports the charge from the battery to the battery of the device being charged.
LED Flashlight (built into the battery pack) – Allows for light to see into the battery pack in case of emergencies where there is no light available.
Car Adapter – These built-in car adapters that are compatible with DC connectors for your driving convenience.
Additional & Related Resources
Check out our great Documents & Additional Resources for our Consumer Electronic Solar Chargers below:
Perfect for all of your consumer electronics, our solar chargers are the ideal low-cost, portable and eco-friendly solution to your battery charging needs. Both our TravelSolar and iSol solar battery chargers are specifically built for using solar power to charge your consumer electronic devices.
Our consumer electronic solar chargers are great for:
AA / AAA / C / D cell battery charging
Solar cell phone charging
Solar PDA & smart phone charging
Solar MP3 / video player charging
And much, much more
If you need assistance choosing the right solar battery charger for your needs, please contact on of our solar battery charger specialists today.
Need Assistance? Ready To Order? Contact Us Today!
Or, Fill Out Our Quick-Contact Form
Contact Silicon Solar Today!
Silicon Solar
2917 State Hwy 7
Bainbridge, NY 13733
P: 1.800.786.0329
www.SiliconSolar.com
Why Shop With Us
Silicon Solar is, and always will be, a family owned and operated solar company dedicated to providing the highest quality solar powered products which have completed our rigorous quality inspection. We also manufacture a full line of solar powered products right here in our production facility; enabling us offer faster delivery and priority technical support.
Search our online catalog for hundreds of solar lights, solar fountains and many other products, including solar cells and solar panels. We also manufacture custom solar kits upon request for professors and educational programs.
Call us today for your solar request, 1.800.786.0329