Shop Off Grid Home Solar Systems DIY Solar
Buy Manufacturer Direct And Save
When you purchase through Silicon Solar, you will save as much as 20-30% vs buying your system through a local solar installer because you aren't paying a retail markup by buying manufacturer direct.
A solar installer may charge as much as $9.55 / watt (plus installation costs). But, at Silicon Solar, your system can cost as little as $5.95 - 7.95 / watt.
| System Size | Typical Installer Price | Typical Silicon Solar Price | You Save |
| --- | --- | --- | --- |
| 1500W | $ 14,325 | $ 10,155 | $ 4,170 |
| 3600W | $ 34,380 | $ 24,372 | $ 10,008 |
| 4500W | $ 42,975 | $ 30,465 | $ 12,510 |
Complete System Financing Available
With Silicon Solar Flex-Pay Financing, you can reduce your electric bill every month witha TruPower off grid solar system.
Complete System Engineering And Design
For years, we offered our customer pre-packaged off grid PV systems, however, during that time we discovered that our most satisfied customers with the highest return on their investment were those who used our engineering professionals to design, purchase and install a custom cabin solar system carefully engineered to meet their specific needs.
Today, all of our PV system sales are engineered custom PV systems.
To get started:
Determine your PV system size needs using the calculator to the right
Contact our off grid PV professionals using the contact form to the right
Place your $800 engineering deposit & design fee through your sales rep
Purchase your recommended off grid PV system
Let us arrange professional installation with one of our local PV installers
Note: Your design fee will be applied to your system purchae when you complete your order, or returned if you choose not to purchase through Silicon Solar.
What Will Your Off Grid PV System Include?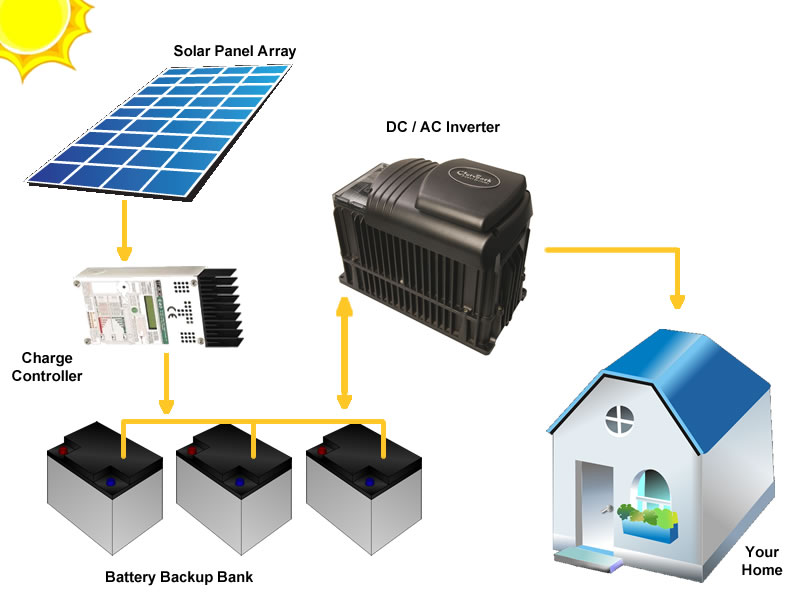 How Much Sun Is Available Where You Live?
Off Grid Solar Systems With Battery Backup Information Guide
Off grid solar systems are great for those who live in remote locations where bringing in the electric grid is extremely expensive or inconvenient or those who prefer to not have a monthly bill with the electric bill at all.
Off grid solar systems from Silicon Solar will include several critical components, including:
High-Efficiency Solar Panels
Silicon Solar uses the most advanced and high-efficiency solar panels for our off grid solar systems. Designed and engineered to give you more power and a lower-cost, each solar panel used in our grid tie kits is approved and recommended for use all across the US and around the world.
Charge Controller
The charge controller is a critical component of any solar power system with a battery backup. Overcharging is a major killer of batteries and a charge controller will monitor the charge level of your batteries and shut down charging to avoid damage once your batteries are full.
Battery Backup
The battery backup is used in these off grid solar systems to provide power during the night or periods of bad weather when your solar panels can not generate enough power for you to use.
DC-AC Inverter
Solar panels and batteries generate and store power in DC (direct current), however nearly all home appliances and electronics use AC (alternating current) power that comes from the electric grid. A DC-AC inverter will transform the DC power from your solar power system into AC power that is useable right through your home's power outlets. A good, high-efficiency DC-AC inverter can make or break the performance and cost-effectiveness of a off grid solar system.
Other Important Components
Solar panel mounting hardware
Pre-cut wiring runs
Solar wiring combiner box
Battery storage box
On-location & remote (online) monitoring system
Lightning arrestors, breakers and other electrical components
A backup generator (optional, but highly recommended)
30 Year Power Warranty
Silicon Solar provide a 30 year power guarantee on the TruPower solar panels. We offer the longest power guarantee on the solar panel in the industry to assured our TruPower solar panels generation of energy, and also to assured you get the right return based on your investment.Silicon Solar TruPower Solar panel 30 years power guarantee provide a reliability which is beyond compare.
10 Year Product Warranty
Silicon solar also offer a 10 year component warranty on the TruPower Series Components. By using Silicon Solar as your innovative solar solution, you can benefits from our warranty!
Silicon solar also offer a 10 year component warranty on the TruPower Series Components. By using Silicon Solar as your innovative solar solution, you can benefits from our warranty!
Please contact us or call us for more information about warranty at 1.800.786.0329.
About Off Grid Residential PV Sytems
Off Grid residential PV systems are solar powered backup systems for your home that have extra-high capacity battery banks to provide long lasting power to your most important appliances when you need them.
Your residential PV kit comes with a high-powered battery backup system (which provides emergency load power for your home even when the electric grid is down during emergency situations). Grid-tie systems cannot provide power directly to your house during a power outage due to safety regulations, but an off-grid residential kit is available for your use at any time.
Starting with high-efficiency solar panels, your pre-packaged residential solar system will include:
High-efficiency solar panels
Charge controller
High-capacity battery backup bank
Professional-grade DC-AC inverter
Pre-cut wiring and combiners
Backup generator (optional, but recommended)
For more additional information on each system component, please see the in depth breakdown below.
Off Grid Residential Solar Systems Layout And Components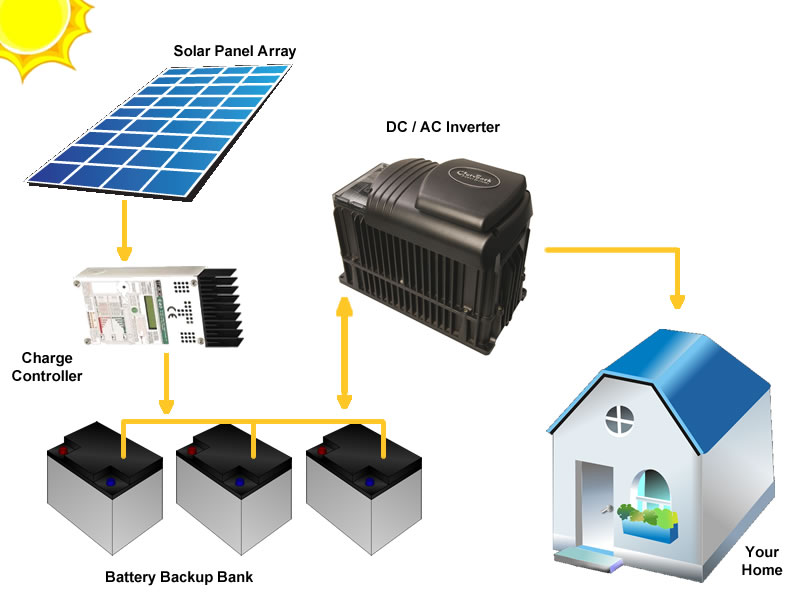 Quick-Respnose Contact Form
Silicon Solar
2917 State Hwy 7
Bainbridge, NY 13733
P: 1.800.786.0329
Quick Help Guide