Can I use my own generator, in addition to using solar panels, to charge the batteries in my kit?
Although most of our inverters do support using a generator for power, we do not include generators with our kits. In most cases inverters with one input may have an external transfer switch connected which allow for both the solar panel array and the generator to be connected, and manually switched between. It is strongly recommended to contact the manufacturer of the specific inverter with any questions regarding this. A list of the most common inverter manufacturer's help lines is given below:
Enphase Energy: 1-877-797-4743
Fronius USA: 1-219-734-5500
Magnum Energy: 1-425-353-8833
Outback Power: 1-360-435-6030
Samlex America: 1-800-561-5885
Schneider Electric USA: 1-888-778-2733
Was this question / answer helpful? | Votes For This Project
Most Popular Related Product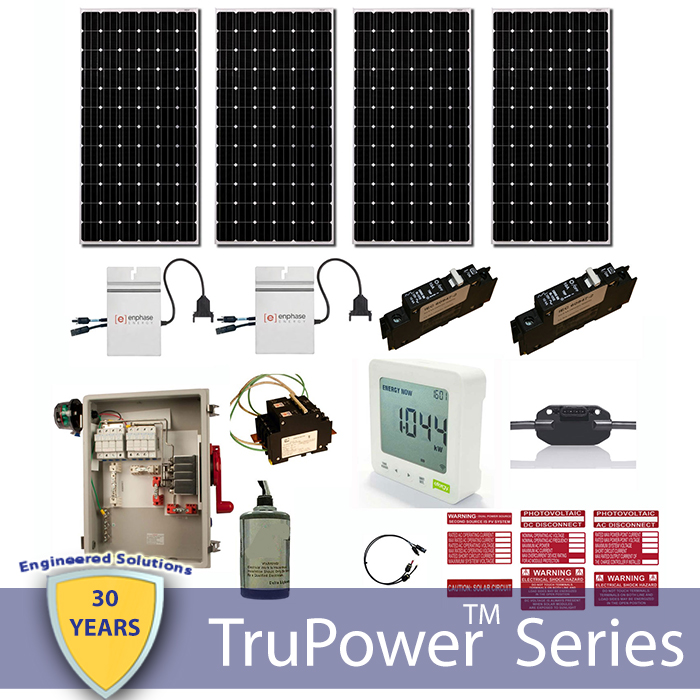 TruPower AC Grid Tie Kit 1200W (Micro-Inverter) The Silicon Solar Grid-Tie Kit is a perfect solar kit for any energy-efficient household. The 1200 W Grid Tie Kit is equipped with 4 x 300W solar panels. The Grid Tie Kit has special inverters that tie in to the grid, which means the kit essentially connects to […]
Have Something Add? Share It Below!