AquaJet 24V Solar Water Fountain Pump Kit is the best Solar Fountain Kit for your pond in summer!
FOR IMMEDIATE RELEASE | April 22, 2013
AquaJet 24V Solar Water Fountain Pump Kit is the best Solar Fountain Kit for your pond in summer!
Silicon Solar's 24V AquaJet Solar Pump Kit is ideal for creative landscaping ideas like water fountains, waterfalls, ponds, greenhouse water irrigation, or any other project that you have in mind. It is the best option on the market because it is made with high quality, commercial grade solar components, has all water tight connections, and functions in rural and stand-alone situations—meaning you never have to worry about connecting the water feature to an existing power source.
The kit includes the 24V brushless solar pump with an adjustable flow knob and dry run protection that ensures the longevity of your pump, a ground stake that allows you to securely mount the 20W crystalline solar panel in a position that maximizes solar exposure, 2 fountain heads, and a 12V battery back-up system that allows the fountain to operate at night and in overcast conditions. The system is able to reach a water lift height of 6-12ft and can achieve a flow rate of 412 GPH. The long cord length (10ft panel to battery and 16.5 ft battery to pump) will allow you to set up your water feature however you want it without restrictions. The kit requires a 1/2-inch vinyl tubing that isn't included, but anything else you could possible need for a successful landscaping project is included.
Learn more about the pump kit through the video:
Most solar pump systems from other companies last about one season, but the Silicon Solar pump system has been tested to last for years. Silicon Solar is offering this kit at a discounted price of $199.95 and you can order it online at http://www.siliconsolar.com/aquajet-pro-kit-24v-p-503248.html. If you would like to speak with a product representative to purchase the kit or get more information on it feel free to call 1-800-786-0329.
Products Featured In This Video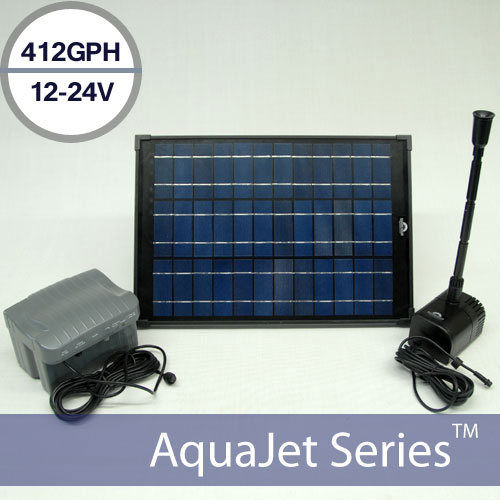 Solar Water Fountain Pump Kit AquaJet Pro Kit 24V Silicon Solar's 24V AquaJet Solar Pump Kit is the best solar water pump system on the market.  Built with commercial-grade, high-quality solar components, and all water tight connections, the Aqua Jet 24V Fountain Pump Kit is perfect for almost any remote solar pump application.  It's ideal for […]
Press Contact Information:
Fill Out Our Quick-Contact Form
[contact-form-7 title="Contact form 1"]
Or, Contact Silicon Solar Today
Silicon Solar
2917 State Hwy 7
Bainbridge, NY 13733
P: 1.800.786.0329
E: Use form, select "Press Inquiry"
www.SiliconSolar.com
For Additional Information, Please See Our Reference Projects & Featured Installations:
Why Shop With Us
Silicon Solar is, and always will be, a family owned and operated solar company dedicated to providing the highest quality solar powered products which have completed our rigorous quality inspection. We also manufacture a full line of solar powered products right here in our production facility; enabling us offer faster delivery and priority technical support.
Search our online catalog for hundreds of solar lights, solar fountains and many other products, including solar cells and solar panels. We also manufacture custom solar kits upon request for professors and educational programs.
Call us today for your solar request, 1.800.786.0329